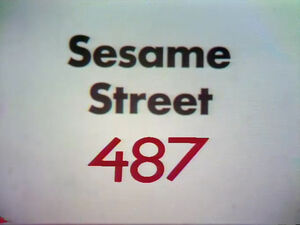 Picture
Segment
Description

SCENE 1
The camera pans in on Ella Mitchell, sitting along in front of 123 Sesame Street. As she sings "Oh, Brother", everyone in the neighborhood gathers to hear her sing (including Bob, Maria, David, Brynne, Shola, John-John, and the kids). She asks her audience to help her spell the words "Justice" and "Freedom". She closes the song by leading the group dancing down the street.

Animation
The Queen of Six explores her garden.
(First: Episode 0223)




Muppets
Ernie & Bert — Ernie asks Bert to keep an eye on his pyramid of blocks. The Count walks by, and counts the blocks, moving them out of the pyramid shape. Then he counts them again, putting them back into the pyramid. Bert yells at the Count for moving Ernie's blocks, so the Count counts the blocks again, taking the pyramid apart.
(First: Episode 0406)

Cartoon
Donnie Budd counts six snails, six ships, and six whales.
Artist: Bud Luckey
(First: Episode 0324)

Film
Sesame Street Animal Films: Otters in the zoo

SCENE 2
At Hooper's Store, Biff has ordered a cheese sandwich, a slice of fresh fruit apple pie, and a donut for his buddy Sully back on the job. Biff hums "The Teddy Bears' Picnic" while David prepares the items. Once he serves up the food, Biff asks that he have them wrapped up to go.

Cartoon
Ralph asks Marvin what would happen if he didn't have a mouth, a nose and ears.
(First: Episode 0468)

SCENE 2
cont'd
Biff hums the "Sesame Street Theme" as David finishes wrapping the items. But now Biff can't tell them apart. David points out that each one is a different shape: the cheese sandwich is a square, the slice of pie is a triangle, and the donut is a circle.

Muppets
Kermit's Lectures: To demonstrate "through", Kermit tries to get Cookie Monster to run through a piece of tissue paper. Instead, Cookie offers other alternatives, ultimately choosing to go around it. He helps Kermit with his demonstration by passing the tissue paper through Kermit.
(First: Episode 0289)

Celebrity
Bill Cosby tells his young friends a story that involves "over" and "under". He mixes the words up, and the kids correct him.
(First: Episode 0136)

Film
"Six Song (Song of Six)."
(First: Episode 0011)

Film
Sesame Street Animal Films: Most animals have two eyes, ears, etc. ... but some snakes have two heads.
Music: Joe Raposo
(First: Episode 0287)

SCENE 3
Ella Mitchell sings "Come and Go with Me" for everyone in the yard.

Cartoon
"Egg Chant": A girl skips rope as a boy sits with an egg on his knee. They recite an alphabet poem together. The egg hatches and a dancing lizard emerges.
(First: Episode 0003)

Film
Things that begin with G
(First: Episode 0357)

Muppets
Grover and George sing "Two G Sounds."
(First: Episode 0358)

Cartoon
Letter G drawing with kid voice-over
(First: Episode 0306)

Cast
Wally and Ralph are about to go on a trip. They attempt to carry off an empty suitcase and a pile of stuff (shirts, pants, socks, tennis rackets, baseball gloves). They finally get the idea that it would be easier if they put the stuff in the suitcase.
(First: Episode 0319)

Cartoon
G For Giggle (voice of Allen Swift)
(First: Episode 0357)

Film
George the Farmer puts his head through a barrel stave. He also goes through the barn.
(First: Episode 0299)

Cartoon
One of These Footprints says "excuse me."

SCENE 4
Oscar the Grouch explains to Ella Mitchell that he likes to set out some tin cans on the "porch" of his trash can so that the rain gets them rusty enough for him to sleep on. Ella says she knows a song about that and sings "Five in the Bed" as Oscar knocks the cans off the porch, one by one.

Muppets
Ernie & Bert — Ernie has heard that somebody in the neighborhood is sick. He looks in a medical book to find out how to tell if someone is sick... not realizing that Bert is the one with a cold.
(First: Episode 0435)

Cartoon
A goat discusses the letter "G". A man comes by to also talk about G, but rather than point out that "goat" is a G word, he observes the grass. Disgusted, the goat butts the man out of the way.
(First: Episode 0085)

Cartoon
Speech Balloon: G for Gorilla (in man suit)
(First: Episode 0085)

Film
"There's a Bird On Me" (Joe Raposo)
(First: Episode 0416)

Cartoon
Number count to 20 (w/ cameo appearance by Cookie Monster), followed by cast list at the end.
(First: Episode 0350)

Insert
Big Bird plays in his nest with a set of blocks that Roosevelt Franklin had gifted him. Herry Monster comes along and helps him sort them according to how they want to play with them.
(First: Episode 0178)

Film
George the Farmer demonstrates over and under.
(First: Episode 0230)

Cartoon
A man explains that the letter E begins both Enter and Exit. Another man named Roy runs through the doors.
(First: Episode 0406)

SCENE 5
Maria asks the viewer to find some embedded fish shapes. The Count comes along and counts them.

Cartoon
Kids around the world say "ME."
(First: Episode 0389)

Film
A man writes the word ME in the snow.
Music: Joe Raposo
(First: Episode 0294)

Muppets
Muppet & Kid Moment — Big Bird and Shola demonstrate a big stick versus a little stick.
(First: Episode 0306)

Cartoon
A male voice narrates a story of a jazzy triangle who loved to dance, and a square square. The triangle likes being flexible, but the square would rather be stiff and *square*.
Music: "Waltz in Mean Time," David Lee
(First: Episode 0007)

Muppets
Farley looks for ME.
(First: Episode 0464)

Cartoon
E for End
(First: Episode 0460)

Cartoon
Country 6 (repeat)

Cartoon
G for goat (repeat)

SCENE 6
Ella Mitchell describes gospel music as a religious way of telling a story. She sings "

This Little Light of Mine

" as the kids dance around.