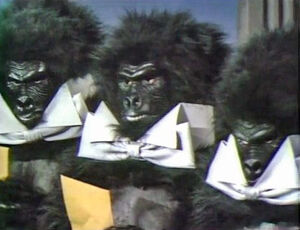 The Count has offered to count ten dolls that Mr. Hooper has just bought. He'll count them as Mr. Hooper puts them on the shelf. Suddenly, the shelf starts to shake, and things fall off the shelf. The Count counts everything all over again.
Big Bird discovers that holding hands is a friendly gesture, and not a sign of love.
While Mr. Hooper thinks that Mr. Snuffleupagus is a product of Big Bird's imagination, he admits that he himself once had an imaginary friend.
Maria invites gorillas to her fancy dinner party, and notices that Bob comes with them. She takes the opportunity to use them to play "One of These Things", and points out that Bob doesn't belong because he doesn't have an invitation. Bob is thrown out, and Maria and the gorillas dine on a dinner of bananas.
Marvelous Maria counts from one to ten, and then from ten to one. (First: Episode 0443)
Cartoon: A girl imagines herself as a car that rescues fire victims.