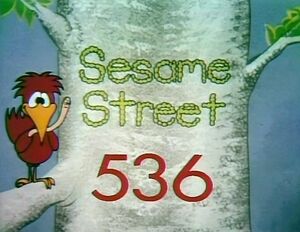 Picture
Segment
Description

SCENE 1
Luis tells Krystal he's going on a coffee break, and asks her to answer the phone in Spanish.




SCENE 1
cont'd
Luis greets Sam the Robot and Mr. Macintosh.




SCENE 1
cont'd
Luis offers to tie Doris's balloon to her wrist. It floats up to David, relaxing on the ledge.

SCENE 1
cont'd
Big Bird and Bob lead the kids outside from Hooper's Store to play basketball.

SCENE 1
cont'd
David and Maria each buy a hot dog from Willy.

SCENE 1
cont'd
Susan picks up a dirty blue shirt and throws it into Oscar's trash can.

SCENE 1
cont'd
Susan welcomes Gordon home from work, and Gordon welcomes the viewer to "just another quiet day on Sesame Street"...

SCENE 1
cont'd
... which proves to be anything but quiet.

Muppets
"Fat Cat"

Cartoon
"Daddy Dear"
(First: Episode 0367)

Muppets
Muppet & Kid Moment — Kermit and Joey sing "The Alphabet Song."
(First: Episode 0426)

Film
D is a very useful letter -- there are animals, jobs, and hobbies that begin with D.
(First: Episode 0367)

Cartoon
The Square

Muppets
Muppet & Kid Moment — Kermit the reporter interviews a girl, Julia, about sounds of different animals. When he asks what sound a frog makes, she answers, "Wiggit! Wiggit!" which doesn't amuse Kermit.

SCENE 2
At the Fix-It Shop, Luis shows Krystal and Trey some metal tools he found in an old tool box. He picks up a hinge, and Krystal says it looks like a bird's beak. This gives Luis some inspiration to make something out of the tools. He tells the kids to go outside and play, and when they come back, they'll be surprised...

Cartoon
Jazz #2
(First: Episode 0001)

Cartoon
"Why are you holding one leg up in the air, Jasper?" "Because if I hold two legs up in the air, I fall down!"
Animation by Cliff Roberts
(First: Episode 0406)
cut from the Noggin version

SCENE 3
Luis shows the kids the surprise structure made of his metal tools: a bird! He then suggests they show it to Big Bird.

Muppets
Ernie & Bert — At the movies, Ernie makes some loud noises while he eats his candy bar and peanuts and drinks his soda. Bert loses his temper and shouts at Ernie to be quiet, at which point the usher enters and throws Bert out.

Film
"There's a Bird On Me" (Joe Raposo)
(First: Episode 0416)

Cartoon
Numbers from 1 to 20 line up, but 17 is missing.
cut from the Noggin version

Film
One of These Things (3 starfish and 1 crab)
(First: Episode 0516)

Muppets
"How Do You Do" (Grover and Lena Horne)

Film
A Stool For Me
(First: Episode 0513)

SCENE 4
(Insert)
Big Bird and Krystal play "store."
cut from the DVD version

Song
"Who You Looking At, Tiger?"
(First: Episode 0371)
cut from the Noggin version

Muppets
Guy Smiley hosts "Beat the Time". In order to win a cookie, Cookie Monster has to bring in three things that rhyme with the word "rain" before the hand goes around the clock. They turn out to be an old man's "cane", a "chain" (to which Frazzle is attached), and finally a "train" which destroys the set.
(First: Episode 0446)

Cast
Luis looks for the exit in a brick room.
(First: Episode 0407)
cut from the Noggin version




SCENE 5
Big Bird and his grown-up friends play "follow the leader"; Snuffy secretly joins in the game without anyone noticing him!

Muppets
Alien Alphabet
(First: Episode 0277)

Celebrity
The Harlem Globetrotters briefly demonstrate their basketball stunts.




Cast
David, alone on a desert island, finds a bottle with a genie (Maria) inside it, and wishes for a boat. But Maria keeps mishearing the request and instead gives him a coat and a (live) goat. Finally she gives him a boat ... but it's not the kind of boat he was hoping for.
(First: Episode 0499)

Muppets
The Anything Muppets perform a "Handclapping Number".
(First: Episode 0491)

Film
Jack Rabbit
Music: Joe Raposo
(First: Episode 0390)

Muppets
Bert sings "Doin' the Pigeon".

Film
Some kids watch a silent film featuring a lady in a burning house. They instruct her to "go to the EXIT!"
cut from the HBO Max version

Film
"Three of These Kids" — Football and Baseball

Muppets
Ernie & Bert — Ernie tells Bert to stand still in front of the camera so that he can "trace" Bert's face on the screen.

Cartoon
Train #2
(First: Episode 0353)
cut from the Noggin version




SCENE 6
(Insert)
Stevie Wonder performs "123 Sesame Street" as David announces the sponsors (D and 2)
(First: Episode 0514)




CLOSING SIGNS
David and Maria hold up the Sesame Street sign, while Ernie and Bert hold up the CTW sign at the end.‎
Alterations
Picture
Segment
Description




SCENE 4
(insert)
DVD release
Big Bird announces that Grover will demonstrate the number 2 by doing two chin-ups. He does it, but then Big Bird asks him to do two more sets, to make sure the audience gets it. When Big Bird thinks they've got it, he announces that Grover will now demonstrate the number 18! Grover faints.
(First: Episode 0547)

On the Old School: Volume 1 DVD release of the episode, this scene replaces the scene with Big Bird and Krystal playing store.

SCENE 6
DVD release
A closing shot of the kids playing as Big Bird and Grover announce the sponsors (C, U and 2).

Due to clearance issues, the Stevie Wonder insert was replaced on the Old School: Volume 1 DVD release with this closing from another episode. This ending comes from Episode 0547, an episode that originally featured Grover's chin-up demonstration, as reference is made to it here.




CLOSING SIGNS
DVD release
David holds the Sesame Street sign, while Grover and Cookie Monster hold up the CTW sign at the end.‎
Notes
This was the first season premiere episode of Sesame Street to not feature any characters performed by Jim Henson or Frank Oz in the street scenes.
The HBO Max version of this episode includes the Friday ending credit sequence from episode 0540, despite having originally aired on a Monday.
Cast
Community content is available under
CC-BY-SA
unless otherwise noted.