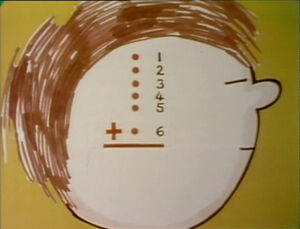 Picture
Segment
Description

SCENE 1
Luis, Bob, Maria and the kids play basketball, when Sam the Robot shows up. He claims that machines are better than people, and proves it by making a basket.

Cartoon
Julius demonstrates "here" and "there", then ends up being "in pain."
Artist: Cliff Roberts
(First: Episode 0418)

Muppets
Muppet & Kid Moment — Kermit and Trey talk about how to get from one place to another.

Song
Joe Raposo sings "Kangaroo Blues."
(First: Episode 0277)

Cartoon
"Jazz #3"
(First: Episode 0002)

SCENE 2
Oscar advertises his brushes for sale. He offers them to Maria, but she points out that all the brushes he has (floor brush, hairbrush, toothbrush, scrub brush) are only suitable for grouches.

Muppets
Cookie Monster sings a rock song about his cookie obsession.
(First: Episode 0506)

Cartoon
Y for yawn
(First: Episode 0301)

Cast
David goes through a series of doors marked "OPEN."
(First: Episode 0442)

Film
Various objects become OPEN.
(First: Episode 0442)

Muppets
Ernie & Bert — Ernie is sad, because it's raining and he can't play baseball. Bert encourages him to imagine that he's playing instead. In Ernie's imagination, he hits a high fly ball that lands in the ocean. Bert tells Ernie that the sun is out, and he can go out and play now. Ernie says that he can't play -- his ball fell in the ocean.
(First: Episode 0410)

SCENE 3
Bob, The Count and the kids play a classification game with striped and dotted shapes. The Count then counts the dots in the shapes.

Cartoon
The life of a Yellow Yahoo
(First: Episode 0043)

SCENE 4
Letter Y quickies:


Luis has a young puppy.
Big Bird yawns as he takes his nap.
Cookie Monster eats a letter Y, which is yummy.
Maria yells after Big Bird knocks down her house of cards.

Cartoon
A boy talks about his pet letter Y, named Yetta.
(First: Episode 0443)

Film
Y, for Yacht
(First: Episode 0471)

Muppets
Grover, Herry Monster, and Billy rearrange themselves in different ways and count to three, until they get exhausted and faint. (shown in English, then Spanish)
(First: Episode 0186)
Spanish – (First: Episode 0364)

Song
Joe Raposo sings "Flying."
(First: Episode 0394)

Muppets
Ernie has a question but decides to wait until Bert is done reading the newspaper to ask. Ernie hums and talks to Rubber Duckie until Bert gives up reading the paper in exasperation. Then, Ernie asks his question: Can he borrow the newspaper?
(First: Episode 0042)

Cartoon
A boy does an addition problem in his head: 5 + 1 = 6.

SCENE 5
Jay tries to glue a leg onto a chair, but can't get it to stand properly. Luis brushes off the situation, but Jay stands up to him and tells him that some things are harder for a kid to do than they are for an adult. Luis helps him fix the chair with a C-clamp.

Cartoon
A girl imagines she's a rock, which becomes a statue.
(First: Episode 0513)

Muppets
Simon Soundman tries to buy a saw at Sam's General Store.
(First: Episode 0409)

Muppets
Muppet & Kid Moment — Chris, with his sister Stephanie, counts to 20 for Kermit.
(First: Episode 0422)




Film
Number Three Ball Film: A red ball follows a rollercoaster-like track through checkpoints (each, a set of three) that are counted in voiceover. At the end, the ball is ground up into a powder.
(First: Episode 0254)

Cartoon
OPEN -- "Would you mind closing our OPEN?"
(First: Episode 0512)

Muppets
Grover watches Mumford practice a trick, making a rabbit come out of his hat. Mumford has trouble getting a rabbit to come out of the hat, and both are oblivious to the fact that Grover is turning into a rabbit.
(First: Episode 0407)

Cartoon
A man demonstrates Spanish words that start with the letter Y.
(First: Episode 0470)

Film
Kids narrate a tortilla contest in English and Spanish.
(First: Episode 0456)

Cartoon
C - Cake
(First: Episode 0153)

Film
"Three Song (Song of Three)."
(First: Episode 0001)

SCENE 6
Luis and the kids try to form letters out of sticks.

Muppets
Kermit asks the viewers to play a weather imagination game. First, Kermit imagines it's a warm, sunny day. Then he imagines that it's raining hard. Then he imagines that it's a snowy, windy day.
(First: Episode 0325)

Animation
The story of Dan and Nan, as told with words ending in "an."
(First: Episode 0450)

Muppets
Muppet & Kid Moment — Ernie, Bert and Shola count fingers.
(First: Episode 0464)

SCENE 7
Mr. Snuffleupagus shows up to Big Bird's nest, sick with a cold. Big Bird goes to fetch him a tissue, but doesn't find one large enough for his friend, until he sees a bedsheet on the clothesline. But it's too late: Snuffy's sneeze is loud enough for the whole neighborhood to hear. Snuffy goes home, and Big Bird, Maria and Bob come back to an empty nest area.

Muppets
Lefty's boss makes sure Lefty knows the alphabet.
(First: Episode 0236)

SCENE 8
The sponsors are announced.