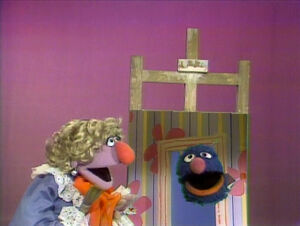 Picture
Segment
Description

SCENE 1
In Big Bird's nest area, a kid finishes reading "Cinderella" to an audience of kids, including Big Bird and Mr. Snuffleupagus. Snuffy wonders why the prince didn't go looking for Cinderella herself, and Big Bird reminds him that everyone at the ball was wearing a mask. Snuffy gets inspired, and runs off…

Muppets
Ernie explains how a scale can determine what is heavier than another object. With the scale, he was planning to split some cookies with Bert, but can't figure out how to do it. Cookie Monster shows him his way of solving the problem: he eats the cookies off each side of the scale until there are no cookies left. Ernie is disappointed since all he's left with is a "really good scale". Cookie disagrees--he's tasted better.
(First: Episode 0264)

SCENE 2
Snuffy returns, wearing a mask, pretending to be a stranger looking for a snuffleupagus. Big Bird and the kids play along with the charade, until Snuffy takes off his mask.

Muppets
Grover's rowboat - part 1
Grover and a group of monsters, including Herry Monster, Fenwick and Billy, get into a rowboat. The monsters all gather at one end, causing the boat to tip over and sink.
(First: Episode 0281)

Cartoon
Speech Balloon: L for Light
(First: Episode 0147)

Muppets
Grover's rowboat - part 2
The monsters gather on the other end of the boat, and it sinks again.
(First: Episode 0281)

Cartoon
L es para luz
(First: Episode 0373)

Muppets
Grover's rowboat - part 3
The monsters finally spread out over the boat evenly, and row away.
(First: Episode 0281)

Song
Joe Raposo sings "Touch, Hold, Feel."
(First: Episode 0504)

SCENE 3
Biff plays a "Three of These Things" game.

Muppets
Harvey Kneeslapper asks, "Would ya like one?"
(First: Episode 0408)

Film
Detective Fred (Joe Raposo) is sent by his boss (Danny Epstein) to locate the number 20. Throughout the office and on the streets of New York, Fred tracks down the numbers 11 through 18 in numerical order by spying his surroundings. When he finds his way to Apartment 19, he discovers it is occupied by a gorilla, who leads him directly to the elusive 20.
(First: Episode 0277)

Cartoon
Donnie Budd sings a two-step for pairs of animals.
Artist: Bud Luckey
(First: Episode 0342)

Cartoon
Rocket countdown: The rocket falls over.
(First: Episode 0018)

Celebrity
Lorne Greene and the Bonanza cast add two horses and one horse to make three horses.
(First: Episode 0150)

Muppets
Simon Soundman goes to Marvin's Music City to buy a nice shiny trumpet. However, Marvin keeps bringing the wrong instrument.
(First: Episode 0458)

SCENE 4
Maria sings about "My Own Corner," her special hiding place.

Muppets
The Magic Painting Lady shows off her magic painting of a doorway which will help show "through". Three Anything Muppets in the painting come through the doorway. When it comes time for Grover's turn, he ends up breaking through the painting.

Film
Kids identify pairs of animals in a zoo.
(First: Episode 0364)

Cartoon
Rocket countdown: The rocket blows up in a shower of soot.
(First: Episode 0018)

Muppets
Ernie & Bert — As Bert takes a nap, Ernie tells the viewer how he knows that Bert is asleep - thus waking Bert up, just to tell him it's time for his nap.
(First: Episode 0027)

Film
"Two Song (Song of Two)"
(First: Episode 0001)

Film
Sesame Street Animal Films: Road Runner
(First: Episode 0505)

Muppets
Grover demonstrates heavy and light. First, he picks up a heavy barbell. Then he tries to pick up a light feather, but he can't move it. It turns out that the feather is attached to the top of Big Bird's head.
(First: Episode 0406)

Cartoon
Kids hear an L poem.
(First: Episode 0198)

Celebrity
The stars of Bonanza appear: Hoss and Mr. Cartwright take turns saying letters of the alphabet; Little Joe rides up in time for Z.
(First: Episode 0136)

Muppets
Ernie & Bert — Bert hears the phone ringing inside a basket and asks Ernie to answer it. Ernie goes through the basket and finds a banana. He pretends it's a phone and gives it to Bert to talk on. Ernie answers the real phone and tells the caller that Bert can't come to the phone because he's talking on the banana.
(First: Episode 0004)

Cartoon
A drummer precedes C.T. Wordsworth who presents today's word: TELEPHONE.
(First: Episode 0314)

Insert
Cookie Monster explains the purpose of a telephone. Then, Maria and Luis tease Cookie by eating the telephone!
(First: Episode 0562)

Insert
The Alphabet Dancers form a letter L.
(First: Episode 0449)

SCENE 5
At Hooper's Store, David is bothered when The Count counts and it results in thunder and lightning. David tells him not to count, period, and The Count tries his best to restrain himself from counting soda bottles, until David relents.

Cartoon
Train #2
(First: Episode 0353)

Song
David sings "I'm Pretty" over a film of fish and other sea creatures.
(First: Episode 0389)

Muppets
Muppet & Kid Moment — Ernie, Bert and Shola discuss the difference between "heavy" and "light".
(First: Episode 0549)

Cartoon
A disobedient jacket, illustrating words that begin with the letter J, annoys an off-screen narrator, which reveals two kids named Jenny and Jeff inside of it.
(First: Episode 0527)

Muppets
Bob sings "The People in Your Neighborhood" about a baker and a shoemaker.
(First: Episode 0208)

Film
A woman asks a boy how a glass of milk was spilled on the table, so the boy offers several outlandish scenarios before telling her the truth: it was him.
(First: Episode 0212)

Muppets
Bert sings "Doin' the Pigeon".
(First: Episode 0536)

Animation
The story of Dan and Nan, as told with words ending in "an."
(First: Episode 0450)

SCENE 6
David and the kids think of AN words. Sam the Robot spews out a slew of AN words, driving David away.

Muppets
Kermit's Lectures: Kermit comes across the word "Telephone", spells it, and then teaches the word to the viewer. When an Anything Muppet boy who stands too far away says that he can't hear Kermit, Kermit dials the T, and the boy answers with the last E.
(First: Episode 0314)

Film
Sesame Street Animal Films: Jerry Nelson counts 20 backflips performed by a monkey.
(First: Episode 0217)

SCENE 7
Sam follows David into Hooper's. David begs Sam to stop saying AN words, so Sam says OP words instead. The sponsors are announced and the credits roll.