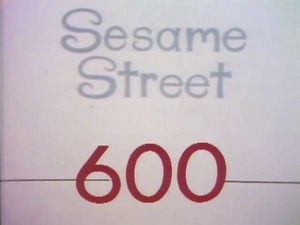 Picture
Segment
Description




SCENE 1
Maria (in voice-over) tells the viewers about the footprints on a clear, snowy day on Sesame Street. The footprints belong to David, Gordon and Big Bird. Big Bird is about to mail a snowball to his cousin in Mount Dora, Florida. Maria tells him not to mail the package until she gets there.

Cartoon
A boy talks about his pet letter Y, named Yetta.
(First: Episode 0443)

SCENE 1 cont'd
Maria reminds Big Bird that last time he mailed a package with a snowball inside, it melted. But Big Bird says that he's older now, and he knows a lot more. This time, he decided to mail an icicle to his cousin.

Muppets
Kermit asks the viewers to play a weather imagination game. First, Kermit imagines it's a warm, sunny day. Then he imagines that it's raining hard. Then he imagines that it's a snowy, windy day.
(First: Episode 0325)

Film
Y, for Yacht
(First: Episode 0471)

Film
The Mad Painter #11
(First: Episode 0329)

Cartoon
A man tries to explain how to put wallpaper up.
(First: Episode 0527)

Muppets
Ernie & Bert — Bert asks Ernie to share a banana with him. Ernie gets the inside of the banana, and gives Bert the peel.
(First: Episode 0464)

SCENE 2
Oscar shows David and Maria his new phone service called "Dial-a-Grouch."

Film
Joe Raposo: Road Runner (instrumental)
(First: Episode 0505)




Muppets
Grover takes part in Bob's story: "Cutie and the Beast." Princess Cutie falls in love with the beast (Grover) and her father, the king, believes that when kissed, he will break whatever spell he's under and turn into a handsome prince. But, before they can be wed, the beast must first undergo "The Ordeal of What-Happens-Next."
Part 1
(First: Episode 0233)

Film
A figure skater illustrates forward and backward.
(First: Episode 0500)




Muppets
As "Cutie and the Beast" continues, the Beast must deduce what happens next in three different situational paintings. The Beast successfully guesses what will happen and is allowed the princess' hand in marriage. The two share a kiss and Cutie turns into a beautiful beast, which is what she previously looked like before her enchantment. "These fairy tales never turn out the way you expect them too!," the king groans.
Part 2
(First: Episode 0233)

Cartoon
"It's a Lovely Eleven Morning"
Artist: Bud Luckey
(First: Episode 0362)

SCENE 3
Gordon plays "Three of These Things" with some boots.

Cartoon
C - Cake
(First: Episode 0153)

Cast
"David the Daring" does his famous forwards and backwards trick.
(First: Episode 0439)
Muppets
Cookie Monster and Ernie: Ernie and Cookie Monster discuss hope. Ernie has something in a brown paper bag, and asks Cookie Monster what he hopes it is. Cookie Monster hopes that it is a cookie. It turns out that Ernie has ten cookies in the bag.
(First: Episode 0233)

Cartoon
The life of a Yellow Yahoo
(First: Episode 0043)

Film
African children play in a village, and in a modern playground.
(First: Episode 0159)

SCENE 4
Bob sounds out the word "snow" for the viewer, and snow is dumped on him.

Muppets
The letter R joins U and N to make the word RUN. Anything Muppets run into the scene and take the letters.
(First: Episode 0406)

SCENE 4 cont'd
Bob now tries sounding out "flowers," hoping they'll fall on him instead. More snow is dumped on him, and an unseen voice (Caroll Spinney) tells him they only have snow in the winter.

Film
Kids count 20 penguins going down a slide.
(First: Episode 0232)

Cartoon
A man demonstrates Spanish words that start with the letter Y.
(First: Episode 0470)

Muppets
Ernie tries to find another cookie with a criss-cross of icing. He has trouble matching cookies, but Cookie knows a better way to match them.
(First: Episode 0169)

Cartoon
Three characters try to watch a baseball game over a fence, then cooperate by stacking their blocks.
(First: Episode 0478)

Muppets / Celebrity
Lena Horne and the Anything Muppets sing "The Alphabet Song."
(First: Episode 0575)

Film
Six children go down a slide.

Muppets
Old West: Five good men are needed to form a posse and catch Bad Bart, the meanest man in the West. The sheriff counts five men in the saloon, and tries to organize them. But it turns out that there are only four good men -- one of them is Bad Bart!
(First: Episode 0554)

SCENE 5
In time-lapse, David makes a replica of a snowman.

Song
"Look Around, Look Around", a song about seasons.
(First: Episode 0556)

Cast
Surgeons Maria, David, Susan and Luis "operate" on a motorcycle. (alternate take)
(First: Episode 0484)

Muppets
Muppet & Kid Moment — Grover and John-John count to 20.
(First: Episode 0476)

Cartoon
Only one of the two footprints can belong.
(First: Episode 0491)

Muppets
An Anything Muppet boy teaches "forward" and "backward" with a group of Muppets who keep running over the boy when his back is turned. (Spanish soundtrack)
(First: Episode 0385)

SCENE 6
David pulls some kids on a sled, as Oscar announces the sponsors: C, Y, and the "miserable" number 11. The credit crawl follows.




CLOSING SIGNS
Gordon, David, and a little girl hold up the Sesame Street sign, while Maria and Bob hold up the CTW sign at the end.