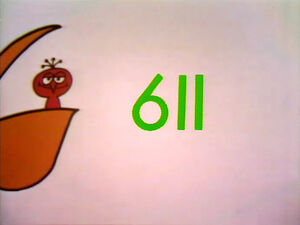 Picture
Segment
Description

SCENE 1
Maria and David introduce Pete Seeger, who is about to chop a log. Big Bird thinks it'll tire him out, but Pete tells them to join him as he sings "Didn't Old John" while he chops.

Cartoon
"Imagination V" -- A surreal segment involving the Venus de Milo statue, a violin, a vampire, and vigilantes.
Artist: Jeff Hale
(First: Episode 0050)

Muppets
Grover the elevator operator gives a demonstration of in and out which annoys the passengers.
(First: Episode 0511)

Cartoon
"It's a Lovely Eleven Morning"
Artist: Bud Luckey
(First: Episode 0362)

Cast
The Alphabet Dancers form the letter V.
(First: Episode 0455)

Cartoon
The Villain in the Panama Hat (V)
(First: Episode 0507)

Film
George the Farmer demonstrates in and out.
(First: Episode 0293)

Cartoon
I've Got a Mind: Wind-up toy
(First: Episode 0255)

Film
Kids climb in and out of a tire.
Music: Joe Raposo
(First: Episode 0450)

Cartoon
Two men, one named Virgil Veep, discuss the letter V as they stand atop a capital V.
(First: Episode 0110)

Muppets
Herbert Birdsfoot and Grover talk about "AN" words. Herbert demonstrates the words themselves, while Grover provides visual aids. The first word they talk about is RAN. While Herbert talks about how to make the word, Grover keeps running around the scene until he tires himself out.
(First: Episode 0160)

SCENE 2
Oscar and the kids join Pete as he sings "I Met an Old Man and He Was Mad", filling in the blank rhyming words.

Muppets
Herbert now makes the word "CAN," so Grover makes a stack of them, which he knocks over.
(First: Episode 0160)

Cartoon
Four people cooperate building a table.
(First: Episode 0537)

Muppets
Finally, Herbert makes the word "FAN." Grover brings in a fan that blows them both away.
(First: Episode 0160)

Cartoon
This is a big letter V poem
(First: Episode 0507)

Cast
Luis tries to open a door marked with a "CERRADO" sign. He gets a running start, when Maria changes the sign to read "ABIERTO." She opens the door and Luis runs right through it, crashing.
(First: Episode 0596)

Cartoon
A man walks in an IN.
(First: Episode 0511)

SCENE 3
Jimmy Collier sings "Do Animals Love" in Big Bird's nest with Big Bird, the kids, and a live cat and dog.

Cartoon
Vitamins give vim, vigor and vitality to a droopy V
Artist: John Hubley
(First: Episode 0311)

Muppets
Lefty wants to sell Ernie an empty box, explaining that he can fill the box with things, such as a pet mouse (if Ernie had one) and jellybeans (if they rained from the sky). Ernie wants an empty box, but doesn't have any money. However, Bert brings a box of cookies. Ernie dumps the cookies so he can catch jellybeans from the sky.
(First: Episode 0081)

Cartoon
A man winds up a toy person and orders it to GO, until the toy snaps back and makes him GO.
(First: Episode 0349)

Cast
David and Luis prepare to hang clothes on a high clothesline using a ladder. However, they each climb it to hang one article at a time. A voiceover instructs them to cooperate, so David climbs the ladder as Luis hands him clothes to hang up.
(First: Episode 0438)

Film
The letter T is a very useful letter.
(First: Episode 0402)

SCENE 4
Pete tells the story of a giant named Abiyoyo.

Cartoon
A caveman finds a rock on the ground, and visualizes the invention of the wheel and the car, ultimately deciding to toss the rock away: "Who needs it?"
(First: Episode 0558)

Muppets
Little Chrissy and the Alphabeats sing "Count it Higher."
(First: Episode 0553)

Cartoon
La palabra cerrado
(First: Episode 0481)

Film
Shopping for soup ingredients.
(First: Episode 0515)

Cartoon
V in space
(First: Episode 0481)

SCENE 5
Pete tells the kids about all kinds of working songs that people used to sing to before there were so many machines. He says there's one that might never go away, and sings "Hush Little Baby".

Film
A baby monkey
Music: Joe Raposo
(First: Episode 0280)

Muppets
Muppet & Kid Moment — Kermit and Tracy recite the alphabet.
(First: Episode 0120)

Cartoon
A colorful, rhythmic demonstration of the word IN (repeat)

Film
Baby turtles swim around.
Music: Joe Raposo
(First: Episode 0294)

Cartoon
T for typewriter and toe
Artist: John Korty
(First: Episode 0506)

Cartoon
A man sees a giant OUT, yells the word, and everyone runs out of it.
(First: Episode 0550)

SCENE 6
Big Bird is sad because he's different from everyone. Jimmy leads everyone in a recitation of "I Am Somebody" which turns into a song with a narrative about a couple who has made their way in the world.

Cartoon
Batman and Robin catch the Penguin's gang who has dirty windows, teaching the opposite pairings of clean and dirty.
(First: Episode 0099)

Muppets
Ernie & Bert — Ernie thinks that he isn't special. Bert tells Ernie to feel his nose -- "That's an Ernie nose!" -- and then feel his hair, and wiggle his fingers. Bert says that nobody else is just like Ernie. Encouraged, Ernie tells the audience to do the same.
(First: Episode 0276)

Cartoon
"It's a Lovely Eleven Morning" (repeat)

SCENE 7
Bob announces the sponsors as Jimmy and Pete walk down the street to a vocalized rendition of the "Sesame Street Theme" accompanied by banjo.