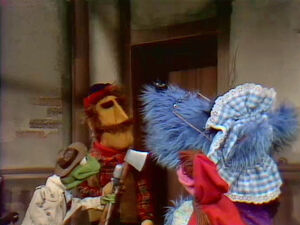 Picture
Segment
Description

SCENE 1
David, Maria, Luis and some kids watch as Brynne shows her dance teacher an original dance. The other kids do their own dances as well, and so do Maria and Big Bird.

Cartoon
A song about a rolling O
Artists: The Hubleys
(First: Episode 0011)

Muppets
Ernie & Bert — Ernie comes up with a way for him to remember to put his basketball away before he goes to sleep: he remembers things with his brain, which is in his head; his head is round, and so is the basketball. His plan works the first time, but not when Bert wants to go to sleep.
(First: Episode 0134)

Cartoon
"Ten Turtles"
Artist: Bud Luckey
(First: Episode 0425)

Film
Kids narrate a film about shorter and longer skirts.
(First: Episode 0324)

Cartoon
La letra O - opera, oeste, orquidea, ojos, ocho, y el orquestra de orangutanes.
(First: Episode 0338)

Muppets
Roosevelt Franklin and his mother sing "Roosevelt Franklin Counts".
(First: Episode 0068)

Cartoon
A horse is drawn as kids guess what it is.
(First: Episode 0377)

Film
The Mad Painter #10
(First: Episode 0328)

Cartoon
Tiger likes going to school.
(First: Episode 0549)

SCENE 2
David teaches Big Bird and the kids "The Alphabet Dance."

Animation
Sand O/o

Muppets
A Carmen Miranda-style Anything Muppet sings "No Matter How You Count Them, they come out the same!"
(First: Episode 0227)

Cartoon
An O rolls over and over a horse. The horse eats the O.
Artist: John Paratore
(First: Episode 0173)

Film
"Ten Song (Song of Ten)" (revised version)
(First: Episode 0021)

Film
Pottery
music: Joe Raposo
(First: Episode 0169)

Cartoon
What if a frog and a fly switched bodies? What do you think would happen?
Artist: Cliff Roberts
(First: Episode 0406)

Film
A mom and her son comment on a film of various animal babies and their moms.
Music: Joe Raposo
(First: Episode 0107)

Muppets
Lefty the Salesman wants to sell Ernie a painting of a tree, which he says is a picture of four elephants. Ernie doesn't see the four elephants, so Lefty offers to show him the elephants if Ernie will buy the picture for a nickel. Lefty points out the elephants, which are actually spaces in the tree's branches. Ernie shells out for the picture. Ernie wants to pull the same trick on Bert, but Bert notices the elephants right away.
(First: Episode 0292)

Cartoon
Only one of the two footprints can belong.
(First: Episode 0491)

Muppets
Muppet & Kid Moment — Cookie Monster shows David the school sign he tore off a building earlier.
(First: Episode 0379)

Film / Cartoon
The letter O introduces many words he starts.

Film
A film insert of kittens playing, with child voiceovers in English and Spanish.
(First: Episode 0429)

Muppets
Kermit's Lectures: Kermit asks Grover to use ladders to demonstrate the difference between short and long. Kermit's amazed that Grover can carry the long ladder by himself, but then sees that Grover is on both ends.
(First: Episode 0276)

SCENE 3
Big Bird leads a shy Mr. Snuffleupagus to the dance teacher and the kids. He leads them in "Doin' the Snuffleupagus". After he leaves, Big Bird tells the adults what just happened, and they don't believe him.

Cartoon
M in space
(First: Episode 0516)

Muppets
Cookie Monster and Ernie: During Ernie's naptime, Cookie Monster tries to steal and eat Ernie's pillow by distracting him with a bell.
(First: Episode 0035)

Cartoon
O limerick
(First: Episode 0146)

Film
Elephants (African percussion soundtrack)
(First: Episode 0389)

Muppets
Waiter Grover: Mr. Johnson wants a bowl of hot alphabet soup, and he really wants it to be hot. He looks to make sure that each letter of the alphabet is in his soup, but he is missing some. By the time Grover brings in all the missing letters, the soup is cold.
(First: Episode 0276)

Film
A silent film about an automobile that can be either long or short.
(First: Episode 0521)

Muppets
"Would You Like to Buy an O?"
(First: Episode 0364)

Film
Joe Raposo: Insects (instrumental w/ kid VO, same music as "Peacock")
(First: Episode 0410)

Muppets
Sesame Street News Flash
Kermit the Frog witnesses how the mailman and salesman knock at the door while the Big Bad Wolf chases Little Red Riding Hood around the bed. Eventually, the Woodsman shows up, and Red and the Wolf chase him for cutting down a maple tree which was their favorite one.

Film
A wheel rolls away from a junkyard. A boy captures it to complete his wagon.
(First: Episode 0522)

SCENE 4
The Count counts as the dance teacher does pirouettes; they both get dizzy.

Muppets
Ernie & Bert — Ernie has a licorice whip that he offers to share with Bert. He divides it in half with a pair of scissors, but then discovers that Bert's half is longer than his. He cuts off a little bit of Bert's half, and eats it. Then he discovers that his own half is longer than Bert's, and that's not fair, so he cuts a bit off of his own, and eats it. Ernie goes back and forth, cutting off more and more, until the licorice whip is gone.
(First: Episode 0461)

SCENE 5
The cast dances as the sponsors are announced.
Notes
The script for this episode was written for Arthur Mitchell as the dance teacher, but his name is whited out in a majority of the scenes, suggesting that he may have been replaced.