Sesame Street
Big Bird tries to remember how to pronounce Mr. Hooper's name
Air date
March 20, 1974
Season
Season 5 (1973-1974)

Sponsors
Q, S, 12

This episode guide has been compiled from script materials provided by a trusted source.

ⓘ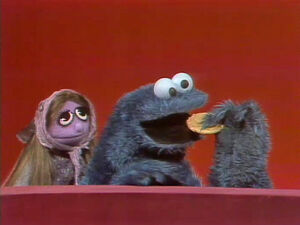 Picture
Segment
Description

SCENE 1
Mr. Hooper tries to teach Big Bird how to pronounce his name right. He reads "Hooper" on the card, then asks for a bag of chocolate birdseed, and thanks "Mr. Cooper".

Cartoon
Q - quarter
(First: Episode 0046)

SCENE 1
cont'd
Mr. Hooper gives Big Bird a hula hoop, because "hoop" is the first part of "Hooper". Big Bird remembers to call him "Hooper" while he's holding the hoop, but when the phone rings, he gives it to "Mr. Telephone".

Cartoon
Q for Quiet
Artist: John Korty
(First: Episode 0441)

SCENE 1
cont'd
Big Bird rushes to Mr. Hooper with something important to tell him, but he refuses to answer to Big Bird unless he gets the Hooper name right. He makes multiple guesses, then remembers when he sees a kid with a hula hoop. He came to tell Mr. Hooper that he left the water running in the sink at the store.

Cartoon
A STOP sign commands a train to stop.
(First: Episode 0493)

Muppets
Simon Soundman tries to buy a saw at Sam's General Store.
(First: Episode 0409)

Song
"Starfish"
(First: Episode 0280)

Cartoon
"Ladybugs' Picnic"
(First: Episode 0416)

Muppets
Ernie & Bert — Bert notices that Ernie has a piece of string tied on his finger. Ernie says that the string tied on this finger helps to remind him that there's a piece of string tied on this finger. And so on. The string on the last finger is there to remind him that they're out of string.
(First: Episode 0163)

Cartoon
"I Can Remember": A little girl remembers what to buy at the store (A loaf of bread, a container of milk, and a stick of butter) by visualizing her mother giving the instructions.
Artist: Jim Simon
(First: Episode 0408)

Film
Sesame Street Animal Films: Kids narrate a film of an African plain and the animals that live there.
(First: Episode 0128)

Cast
David charms a 1 and a 2 out of their baskets to form a 12.
(First: Episode 0504)

Cartoon
Adding up five ladybugs and five lizards
(First: Episode 0277)

SCENE 2
Luis plays a Spanish "Here Are Some Things" game with rectangles.

Film
Sesame Street Animal Films: Geese and their goslings swim in the water.
(First: Episode 0388)

Cartoon
"Poverty Q": A figure demonstrates Q words, despite the unruly stem of his letter Q that keeps detaching itself.
(First: Episode 0048)

Cartoon
Hypnotic "Q" rainbow
(First: Episode 0440)

Celebrity
Pat Paulsen says the alphabet.
(First: Episode 0067)

Film
A girl narrates a film of her grandpa putting a horseshoe on their horse.
(First: Episode 0505)

Muppets
Bert says that he's going to demonstrate quiet by talking quietly to Ernie. But when he tries, Ernie claims that he can't hear what Bert is saying. Finally, Bert gets frustrated and shouts at Ernie; Ernie tells Bert not to be so loud.
(First: Episode 0150)

Film
A man (Barry Simpson) puts on snowshoes to bring his trash out.
Music: Joe Raposo
(First: Episode 0281)

Cartoon
A mother bird brings her babies a huge number 12.
(First: Episode 0493)

Cartoon
A voice asks a face if it's aware of the letter S, and it is revealed that the face belongs to a snake.
Artists: The Hubleys
(First: Episode 0278)

Cartoon
S - Serpiente
(First: Episode 0382)

Cast
Wally and Ralph use various objects trying to keep a newspaper from blowing away next to an open window.
(First: Episode 0340)

Cartoon
Q -- that funny looking thing.
(First: Episode 0131)

Cartoon
A man uses drinking glasses on his eyes and pours water over his seeing glasses.
(First: Episode 0485)

SCENE 3
S is for "sale". Mr. Hooper displays a "SALE" sign at his store, after which it becomes crowded.

Muppets
Four Anything Muppet kids cooperate to grow a flower together. One has a flower seed, one has a flowerpot, one has some dirt, and one has a shovel. The rain and sunshine finish the job.
(First: Episode 0311)

Cartoon
What if an elephant and a mouse had their features switched around?
Artist: Cliff Roberts
(First: Episode 0212)

Muppets
Part 1: The Count withdraws all his money from the bank to count it.
(First: Episode 0602)

Cartoon
A race announcer doubles as the man who holds up the START and STOP sign.

Muppets
Part 2: The Count deposits his money again, but not before counting it one more time.
(First: Episode 0602)

Film
Joe Raposo sings about the sunrise and sunset.

Muppets
Ernie & Bert — At the movies, Ernie makes some loud noises while he eats his candy bar and peanuts and drinks his soda. Bert loses his temper and shouts at Ernie to be quiet, at which point the usher enters and throws Bert out.
(First: Episode 0536)

Animation
Sand Q/q

Muppets
Sesame Street News Flash: Kermit interviews one of the Three Little Pigs, the one who built a straw house. The Big Bad Wolf comes to blow it down, but the house is actually strong.
(First: Episode 0551)

Cast
In speed-induced footage, Maria, Luis and David put together a letter Q.
(First: Episode 0467)

Cartoon
Q for Quiet (repeat)

Muppets
Cookie Monster is about to eat a cookie, when a sad-looking girl approaches and stares at him. He tries to eat the cookie, but can't do it. He breaks the cookie in half and shares the cookie with the girl. He eats his half of the cookie. When the girl eats her half, she eats it just like Cookie Monster.

SCENE 4
The sponsors are announced.