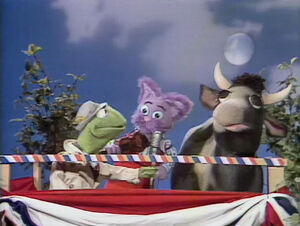 Muppets: Sesame Street News Flash: In a take on the "Hey Diddle Diddle" nursery rhyme, Kermit the Frog interviews Natalie the cow and her cat manager as she prepares to jump over the moon. Natalie plans to break the usual cow stereotype by doing this jump. After the cat plays a fanfare on his fiddle, she makes the jump and crash lands back to Earth, where she is praised and congratulated for her jump.
Cartoon: Three little men climb up the three flower stems.
Muppets/Cast: Cookie Monster: Bob tells the story of "The Monster's Three Wishes." One day, Cookie Monster is brushing his teeth, and discovers the Genie of the Toothpaste, who grants Cookie Monster three wishes. Of course, Cookie Monster wants a million cookies, but first, he needs a truck to carry them all in. The Genie gives Cookie Monster a tiny little toy truck, which is nowhere near big enough to carry all the cookies. Cookie Monster says that he wants a bigger truck, so he's given a slightly larger toy truck. Cookie Monster explains that he wants the biggest truck of all, and the Genie finally gives him a full-size truck. Cookie is delighted, and wishes for his million cookies -- but the Genie explains that he's used up all three of his wishes. Undaunted, Cookie Monster eats the truck.
Community content is available under
CC-BY-SA
unless otherwise noted.