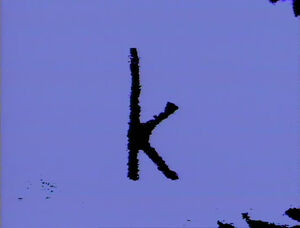 Picture
Segment
Description

Celebrity
Joe Namath counts down from 10 to 1.
(First: Episode 0428)

Cartoon
K for keyhole, ketchup, and kitten
(First: Episode 0489)

SCENE 1
At Hooper's Store, Grover is hesitant to aid Big Bird in a lesson on subtraction (using heavy bags), since he usually gets the short end of the stick. Big Bird assures him that he will do the hard part, while Grover will do the easy part this time. However, to Big Bird, picking up the heavy bags is the easy part, and subtracting is the hard part. Thus, Big Bird subtracts two bags from three and hands them to Grover, leaving one on the counter. Next, Big Bird decides to demonstrate addition. Grover says that this time, Big Bird can do the lifting - but instead, he adds the third bag to Grover's load!

Cartoon
Speech Balloon: K - Key
(First: Episode 0040)

Muppets
Ernie & Bert — Ernie has six jellybeans, and Bert has seven. Bert thanks Ernie for giving him the extra jellybean. Ernie says that isn't fair - they should have an equal amount. To make it even, Ernie eats the extra jellybean. That's fair, isn't it?
(First: Episode 0014)

Celebrity
Joe Namath points to the number 12 on his shirt.
(First: Episode 0504)

Cartoon
"Ladybugs' Picnic"
(First: Episode 0416)

Cast
Luis looks for the SALIDA in a brick room.
(First: Episode 0407)

Cartoon
An old woman emerges from the pouch of a bouncing kangaroo. She proclaims, "K! Kangaroo!"
(First: Episode 0489)

Film
At a fiesta, a group of kids try to break through a piñata.
(First: Episode 0619)

Cartoon
K is for Karate
(First: Episode 0489)

Muppets
Cookie Monster: Cookie Monster comes to the bakery looking for something delicious that rhymes with BUY. He tries the I (from the MIKE'S BAKERY sign) and the baker's TIE, both of which aren't that delicious. Finally, Guy Smiley comes in and loudly announces that he would like to BUY a PIE. Cookie then knows what he can get in the bakery that rhymes with BUY and is delicious: it's GUY! A chase ensues, and Cookie asks the baker to send him the bill.
(First: Episode 0481)

Cartoon
"Egg Chant": A girl skips rope as a boy sits with an egg on his knee. They recite an alphabet poem together. The egg hatches and a dancing lizard emerges.
(First: Episode 0003)

SCENE 2
Bob and Maria insist on helping Mr. Hooper drag a heavy trash can out to the curb. They each change their decisions on where to put it, then Luis informs them that the garbagemen are on strike today.

Cartoon
K for kite
(First: Episode 0489)

Muppets
Bip Bippadotta and friends show none, some and all.
(First: Episode 0615)

Film
There Once Was a Hand: Skip Hinnant narrates the story of an unhappy hand that wishes he could make a noise.
(First: Episode 0007)

Celebrity
Joe Namath passes on 2.
(First: Episode 0438)

Muppets
Ernie & Bert — While Ernie looks after Hooper's Store, Bert asks him for something to drink. Ernie starts out with a glass of unflavored soda water, tastes it, and decides it's too dull for his ol' buddy Bert. To Bert's dismay, Ernie then adds some strawberry syrup to the soda water, then a scoop of ice cream, and finally, some whipped cream. Now it's an ice cream soda, which Bert doesn't want... but Ernie does.
(First: Episode 0539)

Cartoon
A boy passes by various signs before reaching the SALIDA.
(First: Episode 0500)

Cartoon
A lion named Kent gets a Kick out of being King of the forest.
(First: Episode 0619)

SCENE 3
Grover leads the gang in a rhyming game where they think of words that rhyme with their names. When it gets to Grover, the game is "over".

Animation
A small ball discovers a mirror, which shows visions of various other balls.

Cartoon
What if an elephant and a mouse had their features switched around?
Artist: Cliff Roberts
(First: Episode 0212)

Cartoon
A boy and a dog fight over a letter "I."
(First: Episode 0143)

Muppets
Anything Muppets sing "Goin' for a Ride", while traveling in a car, train, and boat.
(First: Episode 0037)

Cartoon
The Pink Panther - K For Karate
(First: Episode 0241)

Muppets
Kermit the Frog draws the letter K on the screen with his "magic finger."
(First: Episode 0515)

Cartoon
Uncle Al tells his nephew a story about a dog he had, but gets mixed up with the details.
Artist: Marv Newland
(First: Episode 0510)

Song
Three kids dance to a rock version of "Three of These Things" while one of them sits and reads.
(First: Episode 0551)

Animation
Henson Films: Number Twelve Rocks
(First: Episode 0195)

Film
Footage of a coral reef, showcasing the plant life and the fish.
Music: Joe Raposo
(First: Episode 0466)

Animation
Sand K/k

SCENE 4
Luis plays a "One of These Things" game with Cookie Monster, using three tools and the key to the Fix-it Shop. Cookie Monster eats the key when he learns it doesn't belong.

Muppets
Cheers: The Anything Muppets cheer for the letter K. (version #2)
(First: Episode 0101)

Celebrity
Joe Namath passes on 4.

Cartoon
SALIDA (train)
(First: Episode 0537)

Film
Ice capades #3 (1:01)

Cartoon
K-kick
(First: Episode 0463)

Film
Joe Raposo: On the beach (instrumental)
(First: Episode 0411)

Cast
The Alphabet Dancers: Lowercase i
(First: Episode 0462)

Song
Joe Raposo sings "I'm an Aardvark."
(First: Episode 0425)

Cartoon
K for kite (repeat)

Muppets
Ernie & Bert — Ernie pretends to be a dog and a duck. Bert then pretends to be a train, and does it so well that a train conductor and passengers come through the apartment.

SCENE 5
The sponsors are announced and the credits roll.