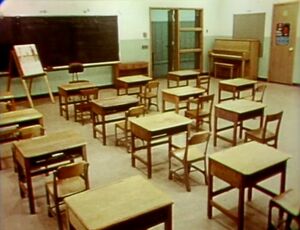 Picture
Segment
Description

SCENE 1
Gordon and Susan see a sign in the arbor: "Sam's Singing School". Sam the Robot has started his own school where he teaches singing. Luis arrives with Sam's "pupils" — some portable radios!

Muppets
Ernie & Bert — Ernie comes from finishing his bath, and tells Bert that there's something that he forgot. Bert asks if he's washed behind his ears, his neck, and his elbows. Finally, Ernie remembers that he forgot to turn off the water in the tub -- as the water level rises.
(First: Episode 0347)

Cartoon
Sand O/o.
(First: Episode 0621)

Film
Letter O hoist
Music: Joe Raposo
(First: Episode 0338)

Film
This is the desert.
Music: Joe Raposo
(First: Episode 0514)

Cartoon
"Jazz #3"
(First: Episode 0002)

Muppets
The Magic Painting Lady shows off her magic painting of a doorway which will help show "through". Three Anything Muppets in the painting come through the doorway. When it comes time for Grover's turn, he ends up breaking through the painting.
(First: Episode 0580)

Cartoon
Joe's Lap (limerick)
(First: Episode 0617)

Muppets
Bob and the Anything Muppets sing "The People in Your Neighborhood": Grocer and Doctor.
(First: Episode 0067)

Film / Cartoon
The letter O introduces many words he starts.
(First: Episode 0621)

Cartoon
An O rolls over and over a horse. The horse eats the O.
Artist: John Paratore
(First: Episode 0173)

SCENE 2
Mr. Hooper comes to the Fix-it Shop with a broken chair. Luis needs four nails of the same size, so he plays a "One of These Things" game with different sized nails, and has the kids decide which nail he should use.

Muppets
Juanita looks for "YO", asking, "¿Esto es yo?" Nope, it's a toy car, and a tomato, and a mirror. Looking in the mirror, she finds herself. "¡Hola, yo!" she cries.
(First: Episode 0454)

Cartoon
A boy and girl fight over the word YO. Luckily, he has a spare.
(First: Episode 0486)

Cartoon
Donnie Budd sings about three trios of animals who live on a fat lady's lap.
Artist: Bud Luckey
(First: Episode 0299)

Film
Where the buffalo roam ...
(First: Episode 0510)




Muppets
Maria reads "The Boy Who Cried Monster." A terrible, cookie-stealing monster helps to teach a mischievous Anything Muppet boy an important lesson.
(First: Episode 0412)

Animation
A scoop of ice cream makes its way to the top of a cone.
(First: Episode 0505)

Cartoon
Batman apprehends a criminal thanks to knowing about around, up and through.
(First: Episode 0096)

Film
A gymnast demonstrates 'around'.
(First: Episode 0517)

SCENE 3
Luis knocks on Oscar's can, but Bert pops out instead and says "Surprise!" Luis tries to show Big Bird this surprise, but Big Bird thinks there's something wrong with Oscar - he's yellow, has a pointy head, his fur has fallen off, etc.

Cartoon
A magician tries to pull a rabbit out of his hat, but instead finds the numbers 1-20, which the rabbit repeats at the end.
(First: Episode 0337)

Film
A clown (Dennis Allen) takes off his make-up. Which face do you like better?
(First: Episode 0461)

Film
Detective Fred (Joe Raposo) is sent by his boss (Danny Epstein) to locate the number 20. Throughout the office and on the streets of New York, Fred tracks down the numbers 11 through 18 in numerical order by spying his surroundings. When he finds his way to Apartment 19, he discovers it is occupied by a gorilla, who leads him directly to the elusive 20.
(First: Episode 0277)

Cartoon
Building a dog house is easy if you have a ruler.
(First: Episode 0630)

Animation
A roof finds its way to the top of a house.
(First: Episode 0505)

SCENE 4
The Count finishes making a block wall, but Oscar knocks it down and says "Surprise!" The Count is overjoyed, since he can start counting the blocks again.

Muppets
Fran Brill narrates two Anything Muppet hands who argue over a piece of cake before they decide to share it.
(First: Episode 0189)

Muppets
Guy Smiley hosts The Weather Show.
(First: Episode 0385)

Cartoon
A man learns that it's better not to pick the flowers.
(First: Episode 0416)

Muppets
"Would You Like to Buy an O?"
(First: Episode 0364)

Cartoon
A song about a rolling O
Artists: The Hubleys
(First: Episode 0011)

Song
"Three is My Favorite Number"
(First: Episode 0429)

Film
Marching Band #3
(First: Episode 0517)

Muppets
Alien Alphabet
(First: Episode 0277)

Animation
Slide puzzle - elephant
(First: Episode 0389)

Muppets
Muppet & Kid Moment — Ernie, Bert and Shola talk about taking a nap.
(First: Episode 0537)

Cartoon
M in space
(First: Episode 0516)

Muppets
Kermit draws the letter M on-screen with his magic finger. Grover asks what Kermit has drawn, and Kermit says it's the letter M. "Mmmmm!" Grover agrees.
(First: Episode 0516)

SCENE 5
Mr. Snuffleupagus wants to surprise Mr. Hooper with a balloon, but is worried about what could happen. Mr. Hooper tells Big Bird to watch the store for him, and Snuffy ends up surprising Big Bird instead, causing him to drop a tray of things.

Muppets
Ernie & Bert — Ernie has a so-called "magic" chain which can form into any shape he wants. Bert is dismissive of the chain's magic properties. And yet, when Bert asks for the chain to provide a sandwich, it does.
(First: Episode 0617)

Film
In stop-motion, assorted furniture places themselves in a classroom.

Muppets
Super Grover: Grover Kent sees a lost little girl in trouble and tries to find a phone booth to change in, the same one she wants to use to call home.

Film
"Three Song (Song of Three)."
(First: Episode 0001)

Cartoon
An O rolls over and over a horse. (repeat)

SCENE 6
The sponsors are announced.
Community content is available under
CC-BY-SA
unless otherwise noted.