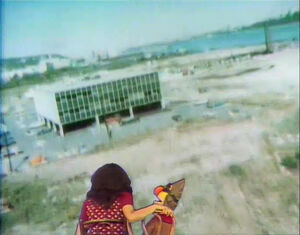 Picture
Segment
Description

Cartoon
H is for horseshoe.
(First: Episode 0020)

SCENE 1
Oscar agrees to watch the Fix-it Shop while Luis steps out for a few minutes. He answers the phone twice, but is rude to the customers. An old man (Jerry Nelson) brings a cuckoo clock into the shop, and Oscar proceeds to fix it himself. Luis comes back, and sees that Oscar has replaced the cuckoo bird with a grouchy one (Nelson).

Cartoon
Speech Balloon: H is for hole
(First: Episode 0080)

Film
Children in a movie theater tell a man on the screen not to open a door that says "DANGER" on it. He opens it, and there's an explosion.
(First: Episode 0526)

Muppets
Farley explains things one can do with their mind - he plans on going to the door, he imagines who's knocking at it, he remembers it's not his mother and he hopes there's not a scary monster at the door. Herry Monster surprises him by bursting through the door, frightening Farley away. Herry's sorry Farley ran away; he wanted to play.
(First: Episode 0180)

Cartoon
"Ladybugs' Picnic"
(First: Episode 0416)

Muppets
Muppet & Kid Moment — Herry asks John-John if he knows the difference between up and down.
(First: Episode 0565)

Cartoon
A mother bird brings her babies a huge number 12.
(First: Episode 0493)

Muppets
Grover sings "Still, We Like Each Other".
(First: Episode 0395)

Film
Examples of people and animals going down.
Music: Joe Raposo
(First: Episode 0406)

SCENE 2
Bert sits outside on the street, pretending to fly a helicopter. Maria sits down with him, and the segment becomes animated as they fly through the air before returning to the Street.

Cartoon
A man instructs someone on how to use a wrench to tighten a pipe.
(First: Episode 0542)

Film
While walking and reading the newspaper, a man barely avoids DANGER on three occasions, but then gets hit by a revolving door.

Muppets
Ernie & Bert — Bert complains when a big letter H appears on the TV screen, so Ernie turns off the set, unplugs it, and takes a bunch of H objects out of the TV (including a hat, a house and a hamster). When he plugs it back in, a big letter I appears on the screen. Ernie wants to try fixing the TV again, but Bert tells him not to -- this is a great show.
(First: Episode 0578)

Animation
Sand H/h
(First: Episode 0630)

Film
Letter H hoist
Music: Joe Raposo
(First: Episode 0336)

Muppets
Grover climbs a tree and finds a bird's nest with some eggs in it. The eggs hatch, and the baby birds think Grover is their mommy. When the real mother bird arrives, she mistakes Grover for one of her babies. She gives them all a flying lesson, but Grover promptly falls to the ground.
(First: Episode 0570)

Cartoon
An elephant and a bear try to cross a bridge to deliver their packages, but they're in each other's way.
Voices: Hal Smith
(First: Episode 0538)

Cast
Maria, Susan, Luis and David put together a fractured letter H.
(First: Episode 0422)

Film
A woman asks a boy how a glass of milk was spilled on the table, so the boy offers several outlandish scenarios before telling her the truth: it was him.
(First: Episode 0212)

Muppets
Cookie Monster and Herry Monster sing "Up and Down".
(First: Episode 0154)

Cartoon
A man demonstrates "up" and "down".
(First: Episode 0276)

Film
Sesame Street Animal Films: Otters in the zoo
(First: Episode 0487)

Cartoon
A shoemaker shows how he measures (human) feet with his ruler.
(First: Episode 0618)

SCENE 3
David sets out the newspapers at Hooper's Store, when Big Bird comes by to collect newspapers for recycling. He ends up taking all the papers that David just set out!

Cartoon
Numbers from 1 to 20 line up, but 17 is missing.
(First: Episode 0536)

Muppets
The Martians find a telephone.
(First: Episode 0398)

Cartoon
A man weighs five pounds of bubble gum. He chews it all, blows a huge bubble, and flies away.
(First: Episode 0617)

Muppets
Ernie & Bert — Ernie can't sleep, so Bert tells him to count sheep. Ernie tries to count sheep, but it's dull -- so he starts counting fire engines. The noise from the imaginary fire engine wakes Bert up. Bert says that Ernie's waking up the whole neighborhood, and tells him to count something quieter. Ernie counts balloons -- but the balloon gets bigger and bigger, finally bursting with a huge explosion that wakes Bert up again.
(First: Episode 0276)

Cartoon
A man pushes up a lazy UP.
(First: Episode 0316)

Film
A gazelle runs fast across a plain.
Music: Joe Raposo
(First: Episode 0478)

Insert
The Alphabet Dancers make the form of the letter F.
(First: Episode 0446)

Cartoon
Fleas have fun in fur!
Artist: Bruce Cayard
(First: Episode 0629)

Cartoon
A boy leads his sister up and down a staircase.
Artist: Cliff Roberts
(First: Episode 0526)

Muppets
Kermit's Lectures: Kermit talks about the word "Taxi." After describing how a taxi works, a small Muppet calls "taxi!" and the word drives up to him. He enters through the X, which opens like a door, and then the word TAXI takes off down the line.
(First: Episode 0312)

Film
A girl gets a pair of earrings, intercut with shots of other people's earrings.
(First: Episode 0422)

Cartoon
Three characters try to watch a baseball game over a fence, then cooperate by stacking their blocks.
(First: Episode 0478)

Film
F for Factory
(First: Episode 0447)

Muppets
Ernie & Bert — Bert can't go on a trip with Ernie because his hand has purple paint on it. Ernie puts a mitten on Bert's hand to cover it, but Bert still won't go because he looks silly wearing one mitten. So Ernie completes the outfit with another mitten, a hat, a scarf, and a sled. Ernie then reveals that they are going to the beach.
(First: Episode 0386)

Cartoon
Boy and the UP balloons
(First: Episode 0364)

Film
A construction worker yells "Timber" and a match slowly falls to the ground.
(First: Episode 0149)

Cartoon
Speech Balloon: H is for hole (repeat)

SCENE 4
The sponsors are announced.