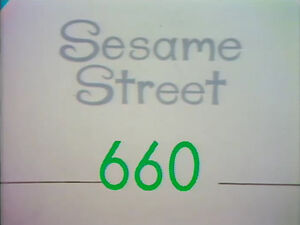 Picture
Segment
Description

SCENE 1
David and Maria explain to Big Bird what being proud means. David is proud of having just shot nineteen baskets in the arbor, while Maria is proud of being able to speak both English and Spanish. Big Bird understands now, but he's upset because he can't think of anything he's proud of.

Cartoon
I've got a mind: squares make a box.
Artist: Cliff Roberts
(First: Episode 0251)

SCENE 2
Big Bird tells the viewer he has nothing to be proud of before riding his unicycle out of his nest and out onto Sesame Street. Everyone he passes by is super impressed by this feat. David asks if it took him a long time to learn, and explains that not many people can ride a unicycle. Big Bird realizes he has something to be proud of and rides his unicycle away. Off-screen, he crashes, and admits to getting a little too proud for a moment.

Muppets
Ernie & Bert — Ernie stacks cups and saucers in order to count them, making Bert quite nervous. Luckily, they're glued together.
(First: Episode 0586)

Cartoon
"Story of P" - The story of a puppy found in a park by a policeman.
(First: Episode 0199)

Song
Joe Raposo sings "A Little Bit."
(First: Episode 0160)

Cartoon
A short poem about a pirate and his puppy demonstrate the letter P.
(First: Episode 0057)

Cartoon
Jazz #5
(First: Episode 0007)

Muppets
Herbert Birdsfoot and the "ET" family, part 1: WET.
(First: Episode 0473)

Film
Anne Meara narrates a silent film of a woman in a burning building, who needs HELP.
(First: Episode 0506)

Muppets
Herbert Birdsfoot and the "ET" family, part 2: SET.
(First: Episode 0473)

Film
A figure skater illustrates forward and backward.
(First: Episode 0500)

Muppets
Herbert Birdsfoot and the "ET" family, part 3: MET.
(First: Episode 0473)

Film
Kids narrate a film of baby eagles getting fed.
Music: Joe Raposo
(First: Episode 0501)




Muppets
Bob sings "The People in Your Neighborhood" with teachers and a newsdealer.
(First: Episode 0276)

Cartoon
P for Pack
(First: Episode 0504)

SCENE 3
Big Bird uses a puppet to illustrate the letter P.

Animation
Sand P/p
(First: Episode 0634)

Muppets
Grover is carrying the word "HELP", which is very heavy. He asks Marty to help him carry the word. Instead, Marty gives Grover three more "HELP" words to carry.
(First: Episode 0287)

Cartoon
Donnie Budd sings about animals in groups of five on a farm.
Artist: Bud Luckey
(First: Episode 0323)

Muppets
Bob is approached by an Anything Muppet (Jim Henson) with no face, so he gives him eyes to see what a lovely day it is and a nose to smell a flower. The AM thanks him and leaves to gift the flower to a friend.

Cartoon
A small frog is jealous of how big an ox is, so he expands himself into a very large, round frog. He becomes so self-important and big he ends up exploding.
Artist: Etienne Delessert

Celebrity
The stars of Bonanza appear: Hoss and Mr. Cartwright take turns saying letters of the alphabet; Little Joe rides up in time for Z.
(First: Episode 0136)

Cartoon
N is naughty, nice, nodding, nickel, noon, nibbling, nest, nut, nose, night, nine, and nursing.
(First: Episode 0140)

Cast
Maria, David, Gordon, and Susan pull on a rope to drag the word HELP into frame. Then they sit on the floor and drive an invisible car away.
(First: Episode 0566)

Muppets
Game Show: The Remembering Game — Guy Smiley hosts Cookie Monster and Bill Smith who have to match two pictures.
(First: Episode 0310)

Cartoon
A letter "P" sits on an island before a rotating sunset. The ridges of the letter "P" moves along the letter and flash in different colors.
(First: Episode 0452)

Cartoon
P is for Puddle
(First: Episode 0452)

SCENE 4
Biff and Maria play "One of These Things" with dump trucks.

Celebrity
Lorne Greene and the Bonanza cast add two horses and one horse to make three horses.
(First: Episode 0150)

Muppets
An Anything Muppet boy teaches "forward" and "backward" with a group of Muppets who keep running over the boy when his back is turned.
(First: Episode 0069)

Muppets
The Count hires Ernie to answer his phone so that he won't be bothered with calls while he is counting. However, when the phone rings, the Count wants to count the rings, and won't let Ernie pick up the phone until it's too late. "I told you it wouldn't be easy," the Count explains.
(First: Episode 0539)

Film
A small ball encounters figures of fish, which it then imagines as real-life fish.

Cartoon
King Minus and the Disappearing Dragons
(First: Episode 0345)

Cartoon
A bird subtracts two balloons from a group of three.
(First: Episode 0530)

Film
Kids narrate a visit to an automobile factory, and watch a taxi being made.
(First: Episode 0186)

Muppets
Ernie & Bert — Bert refuses to share his cookie with Ernie, who tells Bert that if the cookie was his, he wouldn't mind sharing. Ernie takes the cookie, and asks Bert to ask him if he would share it.
(First: Episode 0472)

Film
Five Song (Song of Five)
(First: Episode 0006)

Cartoon / Film
Things that begin with N: nail, nest, net, notebook, needle, noodle, nuts, napkins, nose. (Don't make noise at night). The letter N is nice.
(First: Episode 0659)

SCENE 5
David tells Oscar that he's leaving Hooper's Store early to take Maria out on a date. Oscar hassles him about Maria being late to their last few dates and convinces David that she's probably already been to the movie he's taking her to. Maria shows up on time, but Oscar has David so worked up that he tells her he wouldn't go on a date with her if she was the last woman on earth. After he leaves, Oscar trash-talks David and asks Maria to go to the movies.

Film
"La Maldita Iguana" (mariachi song)
(First: Episode 0544)

Cartoon
A short poem about a pirate and his puppy demonstrate the letter P. (repeat)

Film
Kids paint P-word animals on glass.
(First: Episode 0119)

SCENE 6
After David locks up Hooper's Store, he apologizes for letting Oscar get him all worked up. As they pass Oscar's trash can, Maria opens the lid and sprays some perfume. Biff announces the sponsors and the credits roll.