Sesame Street
Oscar gets his hand stuck in a jar
Air date
November 12, 1974
Season
Season 6 (1974-1975)

Sponsors
K, M, 8

This episode guide has been compiled from script materials provided by a trusted source.

ⓘ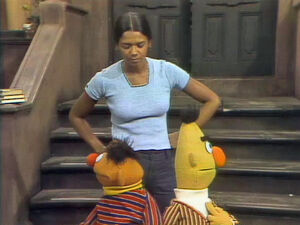 Picture
Segment
Description

SCENE 1
Bob, Susan and Luis fawn over Bob's new canary, Fairbanks, making Big Bird jealous. They remind Big Bird of the things he can do because he's a big bird, like counting to 5, saying the alphabet, and rollerskating. Big Bird reflects on this, singing "He's Smaller Than Me", agreeing that it might be fun having another bird around when he's asked to teach the canary the alphabet and numbers.

Muppets
Ernie wants to borrow Herbert Birdsfoot's vacuum cleaner, but he worries about how Herbert will respond. Maybe Herbert's taking a bath, and he'll be so angry at Ernie for interrupting him that he'll tell everyone to never loan Ernie anything ever again!
(First: Episode 0181)

Song
Joe Raposo sings "New Life."
(First: Episode 0281)

Cartoon
A mouse takes a bite out of a good-smelling M.
Artist: Cliff Roberts

Muppets
Kermit draws the letter M on-screen with his magic finger. Grover asks what Kermit has drawn, and Kermit says it's the letter M. "Mmmmm!" Grover agrees.
(First: Episode 0516)

Cast
"Sluggo the Great" (David) puts on his baseball gear, but isn't sure which body parts to put them on.
(First: Episode 0492)

Cartoon
Melvin the Moving Man has magnificent muscles.
Music: Dick Lavsky and Alan Cagan, Narrator: Allen Swift
(First: Episode 0207)

Muppets
Alien Alphabet
(First: Episode 0277)

Cartoon
Find the camouflaged parrot.
Voice: Paul Dooley
(First: Episode 0516)

Song
"What Kids Are Made Of" - a song about body parts. (part 1)
(First: Episode 0003)

Cartoon
M is for Moo
Music: Larry Rosen and Charles Myers
(First: Episode 0276)

Song
"What Kids Are Made Of" - a song about body parts. (part 2)
(First: Episode 0003)

Muppets
Bob asks a blank-faced Large Lavender Live Hand Anything Muppet how he feels. The Muppet answers, "I don't feel anything." Bob sticks a nose and angry eyes on the Muppet, who then starts to feel mad. He walks off in a huff, and we hear a crash off-screen. The Muppet comes back and ad-libs, "It's okay, Bob, I just dropped my watch!"
(First: Episode 0491)

Muppets
Part 1: The Count withdraws all his money from the bank to count it.
(First: Episode 0602)

Animation
Sand M/m
(First: Episode 0620)

Muppets
Part 2: The Count deposits his money again, but not before counting it one more time.
(First: Episode 0602)

Cartoon
Ten little Greeblies (bug-like creatures) keep getting separated by their group, teaching a lesson in counting backwards.
(First: Episode 0006)

SCENE 2
Ernie and Bert get into a big fight and decide to go their separate ways, Ernie moving out west to become a cowboy and Bert going to the North Pole to study fish. Maria convinces them not to do so, because then they'd never see each other again.

Cartoon
"Poverty K" - Karen the Kangaroo talks about words that start with the letter K. Featuring the sped-up voice of Gene Moss.
(First: Episode 0142)

Song
"Eight Song (Song of Eight)"
(First: Episode 0016)

Cartoon
A kitten is knittin' a kerchief, a kite, and a polka-dot mitten.
(First: Episode 0282)

Film
Animals and children bathe in water.
Music: Joe Raposo
(First: Episode 0615)

Muppets
Sesame Street News Flash: The Count ruins Kermit's opportunities to interview The Three Little Pigs and the Seven Dwarves by counting them.
(First: Episode 0569)

SCENE 3
Luis plays a "Here Are Some Things" game with two baby carriages.

Animation
"The King of Eight"
(First: Episode 0225)

Muppets
Guy Smiley hosts "The Trading Game" with contestants Oscar the Grouch and Sally Screamer.
(First: Episode 0279)

Cast
Luis demonstrates how to use a can opener to open a can of spaghetti ... not realizing that it's open on the bottom already.
(First: Episode 0469)

Film
Things that start with M
(First: Episode 0620)

Cast
Maria demonstrates how a hammer is used by hammering a nail into a wall to hang up a picture. Then, the wall tips over on her.
(First: Episode 0469)

Film
Squares are shown in close-up.
(First: Episode 0420)

Muppets
Muppet & Kid Moment — Ernie, Bert, and Shola illustrate "between".
(First: Episode 0542)

Film
A gymnast demonstrates "between."
(First: Episode 0542)

Cartoon
M in space
(First: Episode 0516)

SCENE 4
Oscar has his hand stuck in a jar, and asks Luis for help removing the jar. Susan and Luis tug with all their might, but it stays on.

Film
Anne Meara narrates a silent film of a woman in a burning building, who needs HELP.
(First: Episode 0506)

SCENE 4
cont'd
Bob comes over with some axle grease to help with the stuck jar, but it still doesn't come off.

Muppets
Kermit's Lectures: Kermit tries to demonstrate what round is, with the help of a wisecracking ball. He introduces Kermit to his "daddy," a basketball.
(First: Episode 0107)

Film
A little girl needs HELP getting on a horse.
(First: Episode 0484)

SCENE 4
cont'd
Oscar reveals that he was trying to fetch a rock from the jar, which is how his hand got stuck in it. Bob tells him to let go of the rock, and he frees his hand from the jar. But when Luis hands him a broken clock, he sees a spring inside it that he wants. He reaches inside, and gets his hand stuck, but the adults leave him alone, hollering. The sponsors are announced.