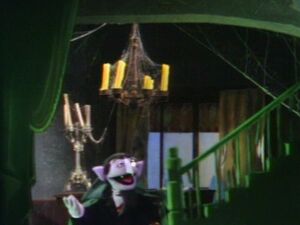 Ernie & Bert — Ernie can't sleep, so Bert tells him to count sheep. Ernie tries to count sheep, but it's dull -- so he starts counting fire engines. The noise from the imaginary fire engine wakes Bert up. Bert says that Ernie's waking up the whole neighborhood, and tells him to count something quieter. Ernie counts balloons -- but the balloon gets bigger and bigger, finally bursting with a huge explosion that wakes Bert up again. (EKA: Episode 0276)
The Amazing Mumford tries a trick with a rabbit. He doesn't seem to be able to do any tricks anymore, but Luis encourages him to keep trying.
Oscar loves magicians whose tricks don't work out. When he finds out that Mumford is all washed out, he asks him to do some tricks. In trying to show Oscar he's really washed out, Mumford ends up succeeding.
Film: A boy uses his wagon as a pretend bus, and explains to his friend that his dad is a real bus driver. Footage of his father working shows what a bus driver does. (EKA: Episode 0181)