Sesame Street
Oscar impersonates other people on the Street to avoid being bothered
Air date
November 27, 1974
Season
Season 6 (1974-1975)

Sponsors
H, J, 8

This episode guide has been compiled from script materials provided by a trusted source.

ⓘ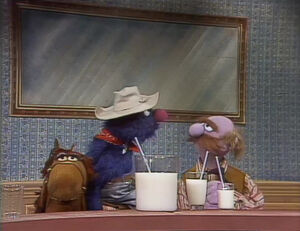 Picture
Segment
Description

SCENE 1
Oscar realizes that everybody bothers him because he's a Grouch. Sometimes he wishes he were anybody else but him. He decides to impersonate other people on the Street to avoid being bothered.

Cartoon
J family jamboree
(First: Episode 0365)

SCENE 2
Oscar dons a wig and pretends to be Maria. When Gordon asks "Maria" for a favor, he changes into Mr. Hooper. When Gordon asks "Mr. Hooper" for an ice cream sundae, he changes into Gordon! Maria, humoring them both, gives a dirty rag to Gordon, and invites him to Hooper's Store for a pickle sundae, frustrating Oscar.

Film
Js appear in a junkyard.
(First: Episode 0449)

Cartoon
'j' minuscula
(First: Episode 0475)

Film
A showcase of J words
(First: Episode 0631)

Muppets
"Fat Cat"
(First: Episode 0536)

Cartoon
A boy says he has a big surprise in his hand.
(First: Episode 0557)

Film
Elephants (African percussion soundtrack)
(First: Episode 0389)

Muppets
Little Bird explains "next to". Then Cookie Monster cuddles up next to Little Bird.
(First: Episode 0167)

Cartoon
Two circles demonstrate "next to" and "away from".
(First: Episode 0644)

Song
"Eight Song (Song of Eight)"
(First: Episode 0016)

Celebrity
Lucky Peterson sings "One, Two, Three."
(First: Episode 0620)




Muppets
Marshal Grover and Fred the Wonder Horse are hot and thirsty, so they stop in at the Short Branch Café for a nice cold glass of milk. The bartender is distressed to see Grover riding his horse right inside, knocking over tables. "I just redecorated the place, too," he sighs. Grover orders a glass of milk, and the bartender asks if he wants the big glass, the bigger glass or the biggest glass. Fred tells the bartender that Marshal Grover doesn't know the difference, so the bartender shows off all three sizes. Marshal Grover and Fred come behind the bar to get a closer look, breaking bottles and glassware. The annoyed bartender shouts at Grover to choose a glass, and Grover picks the biggest glass. The bartender asks if Fred wants anything, but Fred says, "No thanks, I'm drivin'." As Grover rides his horse out of the café, the bartender asks who's going to pay for all this stuff. Grover says he'll be back to pay for it tomorrow. Panicked, the bartender says not to come back; it's on the house!

Cartoon
"Candy Man"
Artist: Bud Luckey
(First: Episode 0359)

Muppets
A woman (Jim Henson) volunteers to assist The Amazing Mumford in his surprise magic trick. Mumford makes her disappear – but when he tries to make her reappear, Herry Monster pops up, saying "SURPRISE!"
(First: Episode 0381)

Animation
Sand J/j
(First: Episode 0631)

Film
A magnetic scrapyard baler is used to lift cars into a compacter.
(First: Episode 0024)

Muppets
Kermit, Farmer Grover and a horse show how a horse and cart works.
(First: Episode 0590)

Cartoon
A disobedient jacket, illustrating words that begin with the letter J, annoys an off-screen narrator, which reveals two kids named Jenny and Jeff inside of it.
(First: Episode 0527)

Cartoon
A bully says the alphabet to a mild-mannered gardener, who hits him in the face with a pie at the end.
(First: Episode 0279)

Cast
Luis serves as the announcer for a ping pong match between Maria and David, who can't his paddle. Once they're ready to go, they're pelted by several dozen ping pong balls.

Cartoon
A drummer precedes C.T. Wordsworth who presents today's word: STREET. He sings about it with a boy who wears a crown.
(First: Episode 0309)

Muppets
Muppet & Kid Moment — Cookie Monster shows David a sign that says STREET.
(First: Episode 0423)

Film
"Sometimes, when you want to get somewhere, you need a bridge." (edited)
Music: Joe Raposo
(First: Episode 0140)

Muppets
Ernie & Bert — Ernie is painting a portrait of Bert, but paints Bert with curly hair, glasses and a beard. When Bert gets angry about this, Ernie takes him behind the easel and puts curly hair, glasses and a beard on Bert.
(First: Episode 0365)

Cartoon
H for hello (voice of Gary Owens)
(First: Episode 0020)

Film
This is the desert.
Music: Joe Raposo
(First: Episode 0514)

Cartoon
Christopher Clumsy demonstrates the things feet can do.
Artist: Cliff Roberts
(First: Episode 0455)

Cast
Maria, Susan, Luis and David put together a fractured letter H.
(First: Episode 0422)

SCENE 3
Mr. Hooper explains to Big Bird that he has kept a dented cookie can for many years because it helps him remember a boy who told the truth even when he'd done something wrong. As it turns out, that boy was Gordon.

Muppets
Grover the Assistant: Herbert Birdsfoot arranges three blocks for Grover to count. No matter how the blocks are arranged, they still add up to three. Herbert asks Grover to count some oranges as well. Grover confesses that he's good at counting blocks -- but he doesn't know how to count oranges!
(First: Episode 0192)

Film
A film of butterflies
Music: Joe Raposo
(First: Episode 0406)

Cartoon
A man winds up a toy person and orders it to GO, until the toy snaps back and makes him GO.
(First: Episode 0349)

Insert
Bob draws a face on his fist, then puppeteers it as he sings "Face Game."
(First: Episode 0562)

Cartoon
A girl wonders what would happen if she popped her balloon. She imagines it would scare her sister, who would end up breaking a vase and getting in trouble.
(First: Episode 0280)

Muppets
Ernie & Bert — Ernie's doctor comes over. Ernie keeps trying to tell the doctor why he called him, but the doctor is too occupied with checking on Ernie, hardly allowing him to get a word in edgewise.
(First: Episode 0137)

Cartoon
J for jacket (repeat)

SCENE 4
The sponsors are announced as the kids play ball in the arbor.
Notes
Deleted scenes in the script depict Oscar still pretending to be Maria, this time with a mask and a wig; then Gordon putting on an Oscar mask, making Oscar decide to go back to being himself.