Sesame Street
Oscar disagrees with Luis' decisions as an umpire.
Air date
November 29, 1974
Season
Season 6 (1974-1975)

Sponsors
N, 10

This episode guide has been compiled from materials at the CTW Archives.

ⓘ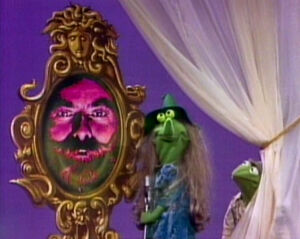 Count von Count: The Count extinguishes electric candles by counting them with his finger. As he heads up the stairs for bed, he steps on Fatatita. He also tells his wolf Yuba to run and play with his friends.
Ernie & Bert — Ernie tries to put a pot on Bert's head. Bert asks Ernie why he's doing that, and Ernie says that he broke a cookie jar. Ernie has to put the cookies somewhere, so he put them in the sugar bowl – and put the sugar in the flowerpot, which meant that he had to put the flowers in a milk bottle. He put the milk in the soda bottle, and the soda into the fishbowl, and the fish in Bert's cowboy hat. Bert asks, "Now what am I going to wear when I want to play cowboy?" Ernie puts the pot on Bert's head and says, "Ride 'em, cowboy, Bert!" (First: Episode 0279)
Bob reads "The King and the Fireman", a story about a king who becomes so grateful for being saved by a fireman that he decides to make everyone in the kingdom a firefighter... and soon realizes what a mistake he's made. (First: Episode 0278)
Susan brings a typewriter into the Fix-It Shop, but ends up angry because Luis is getting a lot of phone calls and is not helping her.
Using birdseed and a hat, Big Bird demonstrates on, in and under.
Big Bird appears in a photograph of the jungle.
Cartoon: A man lifts a rock and finds the word UNDER.
Film: SCHOOL: the sign spins around.
Community content is available under
CC-BY-SA
unless otherwise noted.