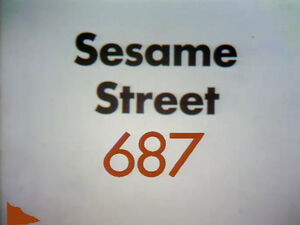 Picture
Segment
Description

SCENE 1
Linda sits outside reading. David wants to sit by her and makes sure she's okay with that. He begins blasting his radio and noisily eating chips, knowing she can't hear any of it. Ed Waterstreet and Joe Sarpy of the Little Theatre of the Deaf arrive and ask Linda (in sign) if they can also sit around. They begin signing jokes to each other, which Linda now finds distracting and she leaves.

Cartoon
A boy and a dog fight over a letter "I."
(First: Episode 0143)

Muppets
Ernie & Bert — Bert expects a visit from his identical twin brother Bart. Ernie notes that they're alike in many ways, but their major difference is that Bart has a sense of humor.
(First: Episode 0594)

Cartoon
A mother bird brings her babies a huge number 12.
(First: Episode 0493)

Film
Animal camouflage with kid voiceovers.
Music: Joe Raposo
(First: Episode 0366)

Cartoon
Capital I, he's quite a guy
(First: Episode 0368)

Muppets
Ernie opens his lunchbox and finds that half of his chicken salad sandwich is missing. Sherlock Hemlock, the world's greatest detective, investigates this fiendish crime. It turns out that Sherlock himself ate half of Ernie's sandwich.
(First: Episode 0131)

Cartoon
Letter I (Beep Beep)
(First: Episode 0427)

Film
A girl puts on her coat all by herself.
Music: Joe Raposo
(First: Episode 0622)

Cartoon
Two lines intersect at the middle of the screen and have an argument; they cooperate by making a cross.
(First: Episode 0276)

SCENE 2
Based on suggestions from the kids (including Shola and Troy), the Little Theatre troupe act out a scary story about the Frankenstein monster meeting a skeleton in the cemetery.

Animation
Sand I/i
(First: Episode 0619)

Muppets
Ernie & Bert — Ernie holds a hanky while Bert sneezes -- and Bert's nose comes off in Ernie's hand. Ernie teases Bert by putting his nose back in the wrong places.
(First: Episode 0026)

Celebrity
Pat Paulsen says the alphabet.
(First: Episode 0067)

Cartoon
A small frog is jealous of how big an ox is, so he expands himself into a very large, round frog. He becomes so self-important and big he ends up exploding.
Artist: Etienne Delessert
(First: Episode 0660)

Muppets
Little Jerry and the Monotones sing "Proud."
(First: Episode 0408)

Cartoon
Things that are the same or different are displayed like a slot machine. (version #2)
(First: Episode 0335)

Muppets
Muppet & Kid Moment — Kermit the Frog talks with twins Corey and Todd about how they're same and different.
(First: Episode 0557)

Cartoon
Speech Balloon - I: An iron irons the word.
(First: Episode 0314)

Muppets
Western: A cowboy comes to see Adam T. Glaser, who is such a jack-of-all-trades that he forgets what a dentist does.
(First: Episode 0408)

Cartoon
Pat the Pilot skywrites a letter P with her plane.
Artist: John Korty
(First: Episode 0478)

SCENE 3
The Count counts to twelve while the Little Theatre (who are all dressed as The Count) sign the numbers.

Insert
Three of These Kids are jumping rope, but the fourth one is sitting down and reading a book.
(First: Episode 0415)

Cartoon
A man weighs five pounds of bubble gum. He chews it all, blows a huge bubble, and flies away.
(First: Episode 0617)

Cast
David charms a 1 and a 2 out of their baskets to form a 12.
(First: Episode 0504)

Cartoon
Speech Balloon: I for Island.
(First: Episode 0314)

Muppets
Lefty sells Ernie an invisible ice cream cone; Ernie pays for it with an invisible nickel.




SCENE 4
A Spanish-speaking girl places an order at Hooper's Store, but Mr. Hooper doesn't understand. He calls over Luis to translate.

Then, Joe Sarpy from the Little Theatre orders something in sign language, forcing Mr. Hooper to call over Linda to translate. He makes sure they stay in the shop in case he needs further translations.

Moments after, a Muppet bird flutters in and starts tweeting an order. Mr. Hooper begins calling for Big Bird.

Song
"Rockabye Baby" is sung to a sleepy koala.
(First: Episode 0048)

Cartoon
P is for Pillow
(First: Episode 0374)

Film
"La Maldita Iguana" (mariachi song)
(First: Episode 0544)

Cartoon
P is for Puddle
(First: Episode 0452)

Film
Joe Raposo counts 20 antique cars.
(First: Episode 0410)

Cartoon
The dot gets on top of the lowercase letter i.
Artist: Fred Garbers
(First: Episode 0462)

SCENE 5
Mr. Hooper watches in befuddlement as everyone in his store speaks in Spanish, sign, and bird. He answers the phone and confuses them all briefly when he starts speaking Yiddish. The Count announces the sponsors as everyone continues with their conversations.




CLOSING SIGNS
Luis holds up the Sesame Street sign with some kids, while Mr. Hooper and the Count hold up the CTW sign at the end.