Sesame Street
Oscar is expecting a group of Grouches from Cincinnati
Air date
December 10, 1974
Season
Season 6 (1974-1975)

Sponsors
D, Z, 6

This episode guide has been compiled from script materials provided by a trusted source.

ⓘ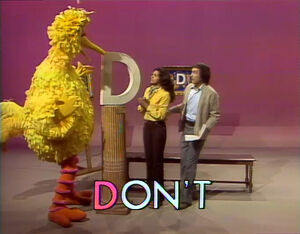 Picture
Segment
Description

SCENE 1
Oscar is expecting a group of Grouches from Cincinnati, and finds himself in desperate need of trash for games. His situation worsens when David and Maria refuse to give him cans and bottles that they're taking to the recycling center. Bob, however, has plenty of trash for Oscar.

Cartoon
D-dart
(First: Episode 0292)

Film
A film insert of kittens playing, with child voiceovers in English and Spanish.
(First: Episode 0429)

Muppets
Sesame Street News Flash: Kermit the Frog reports on Rapunzel, who has been locked in a tower by the wicked witch. Prince Charming comes to rescue her by asking to let down her hair, and she literally does... by having her hair fall off her head.
(First: Episode 0409)

Animation
The Queen of Six explores her garden.
(First: Episode 0223)

Song
Joe Raposo sings "Families."
(First: Episode 0454)

Animation
Sand D/d
(First: Episode 0640)

Muppets
Ernie & Bert — Ernie comes from finishing his bath, and tells Bert that there's something that he forgot. Bert asks if he's washed behind his ears, his neck, and his elbows. Finally, Ernie remembers that he forgot to turn off the water in the tub -- as the water level rises.
(First: Episode 0347)

SCENE 2
Big Bird has invited David and Maria over to dinner, but the whole thing is a flop because he serves unopened clams, frozen foods, unmixed chocolate pudding powder, and raw coffee beans. He instead invites them to his favorite bird restaurant, The Feeder, which serves corn, breadcrumbs, worms, etc.

Cartoon
Two boys notice a D, saying it looks fat. A resonant voice (Gary Owens) informs them that it's the letter D. This leads to a jazzy story about a dog who digs for dice, wins a duck, and buys a dinosaur with a dime. Moral: "If you dig a dinosaur, drop your duck for a dime."
(First: Episode 0016)

Muppets
Ernie & Bert — Ernie declares that he's "the world's greatest counter of numbers". To prove it, he counts from 1 to 10, but every time Bert interrupts him, Ernie starts over again. This slowly drives Bert crazy.
(First: Episode 0107)

Film
Children in a movie theater tell a man on the screen not to open a door that says "DANGER" on it. He opens it, and there's an explosion.
(First: Episode 0526)

Cartoon
Jasper thinks that he has lost his elbow, but Julius shows him his elbow by bending his arm.
Artist: Cliff Roberts
(First: Episode 0410)

Film
Gibbons make screeching noises.
(First: Episode 0276)

SCENE 3
Bob classifies things by function using a raincoat, umbrella, rainhat and sandals.

Film
D is a very useful letter -- there are animals, jobs, and hobbies that begin with D.
(First: Episode 0367)

Muppets
Roosevelt Franklin Elementary School: Roosevelt makes sure the class knows the difference between loud and soft. ("Don't tell me I can't teach.")
(First: Episode 0510)

Film
The Mad Painter #6
(First: Episode 0335)

Cartoon
Workmen construct a D building, filled with everything that begins with D.
(First: Episode 0406)

Muppets
Three witches attempt their own individual spells, which don't work out to their liking. They decide to cooperate by bringing all of their ingredients together, thus making chicken soup.
(First: Episode 0407)

Cartoon
"Daddy Dear"
(First: Episode 0367)

Film
Sesame Street Animal Films: Kids comment over footage of an eagle's view of different kinds of roads.
Music: Joe Raposo
(First: Episode 0377)

Cast
Bob and Maria visit a letter "D" museum, and observe pictures of a dark "D", a dazzling "D", and a delightful "D". Big Bird notices a dusty "D" statue, but ends up destroying the delicate "D" despite Bob and Maria's warnings.

Cartoon
"Egg Chant": A girl skips rope as a boy sits with an egg on his knee. They recite an alphabet poem together. The egg hatches and a dancing lizard emerges.
(First: Episode 0003)

Muppets
Waiter Grover: Mr. Johnson orders bacon and eggs, but he can't decide how many of each he wants. Mr. Johnson says that Grover takes too long and asks for two hot dogs and two pickles for lunch. Grover then throws a tantrum in the kitchen.
(First: Episode 0408)

Cartoon
Speech Balloon: Z for zipper
(First: Episode 0025)

Film
Apples grow on a tree.
(First: Episode 0093)

Cartoon
A boy's jump rope rhyme identifies the parts of his body that hurt - "otherwise I feel fine!"
(First: Episode 0003)

Muppets
Muppet & Kid Moment — Kermit, Chris and Stephanie count ears.
(First: Episode 0458)

SCENE 4
David and Maria manage to crack some walnuts only when Oscar allows the lid of his can to crush them.

Cartoon
"Poverty Z": -- A figure tries to sell a Z. His only customer stops him by locking him inside a zoo cage.
Artist: Cliff Roberts
(First: Episode 0085)

Cartoon
"I'm six years old today!"
Artist: Jim Simon
(First: Episode 0357)

Film
Kids watch a silent movie with a man resting on the train tracks with an oncoming trolley - DANGER!
(First: Episode 0480)

Cartoon
A baby bird falls from a tree. A boy puts him back, and in return, the mother bird saves the boy from embarrassment.
(First: Episode 0550)

Muppets
Harvey Kneeslapper approaches a man and says, "Knock, knock!" The man asks, "Who's there?". Harvey says, "Dion." The man asks, "Dion who?" Then Harvey slaps a letter D on the man's chest and says, "D on you!"
(First: Episode 0292)

Cartoon
D-dart (repeat)

Muppets
Ernie & Bert — At the movies, Ernie makes some loud noises while he eats his candy bar and peanuts and drinks his soda. Bert loses his temper and shouts at Ernie to be quiet, at which point the usher enters and throws Bert out.
(First: Episode 0536)

Cartoon
A man uses drinking glasses on his eyes and pours water over his seeing glasses.
(First: Episode 0485)

Animation
The Queen of Six explores her garden. (repeat)

Film
Joe Raposo: Elephant (instrumental).
(First: Episode 0034)

Animation
Slide puzzle: Ernie
(First: Episode 0403)

SCENE 5
David continues cracking walnuts with Oscar's can lid, as the sponsors are announced.