Sesame Street
Oscar is expecting a group of Grouches from Cincinnati.
Air date
December 10, 1974
Season
Season 6 (1974-1975)

Sponsors
D, Z, 6

This episode guide has been compiled from materials at the CTW Archives.

ⓘ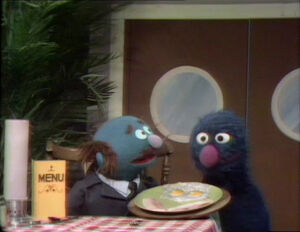 Oscar is expecting a group of Grouches from Cincinnati, and finds himself in desperate need of trash for games. His situation worsens when David and Maria refuse to give him cans and bottles that they're taking to the recycling center.
Sesame Street News Flash: Rapunzel has been locked in a tower by the wicked witch. Prince Charming comes to rescue her by asking to let down her hair, and she literally does... by having her hair fall off her head. (First: Episode 0409)
Ernie & Bert — Ernie comes from finishing his bath, and tells Bert that there's something that he forgot. Bert asks if he's washed behind his ears, his neck, and his elbows. Finally, Ernie remembers that he forgot to turn off the water in the tub -- as the water level rises. (First: Episode 0347)
Big Bird has invited David and Maria over to dinner, but the whole thing is a flop because everything on the table is done the wrong way.
Ernie & Bert — Ernie attempts the incredible feat of counting to ten, but must keep starting over whenever Bert interrupts. (First: Episode 0107)
Three Witches attempt their own individual spells which don't work out to their liking. They decide to cooperate by bringing all of their ingredients together, thus making chicken soup. (First: Episode 0407)
Bob and Maria visit a letter "D" museum, and observe pictures of a dark "D", a dazzling "D", and a delightful "D". Big Bird notices a dusty "D" statue, but ends up destroying the delicate "D" despite Bob and Maria's warnings.
David and Maria manage to crack some walnuts only when Oscar allows the lid of his can to crush them.
Bob classifies things by function using a raincoat, umbrella, rainhat and sandals.
Community content is available under
CC-BY-SA
unless otherwise noted.