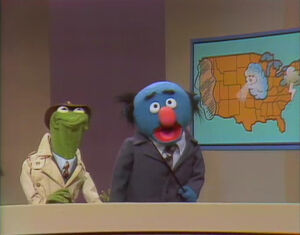 Bert loses his favorite bottlecap while giving a lecture about his incredible bottlecap collection.
Grover climbs a tree and finds a bird's nest with some eggs in it. The eggs hatch, and the baby birds think Grover is their mommy. When the real mother bird arrives, she mistakes Grover for one of her babies! She gives them all a flying lesson, but Grover promptly falls to the ground. (First: Episode 0570)
Cookie Monster is going on vacation, starting with one suitcase and ending with seven suitcases full of cookies.
Grover the Assistant: Kermit has Grover help him demonstrate up and down by having Grover climb UP a sky-high flight of stairs -- while Kermit takes the elevator to the top. Exhausted, Grover faints and rolls DOWN the staircase.
Cartoon: A boy leads his sister up and down a staircase
Community content is available under
CC-BY-SA
unless otherwise noted.