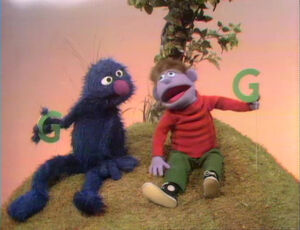 Picture
Segment
Description

SCENE 1
Oscar opens a "Break-It Shop". His first business is the christening of the S.S. Sesame Street Ocean Liner.

Muppets
Maria reads the story of "The King's Nose".
(First: Episode 0537)

Cartoon
Alice Braithwaite Goodyshoes displays a G, for "good." She gets kissed by a monster, who says, "Gee, that was good!"
(First: Episode 0279)

Animation
Sand G/g
(First: Episode 0643)

Film
Footage of a city neighborhood; includes shots of a sno-cone vendor.
Singer: "¡Linda paloma!"
(First: Episode 0426)

Cartoon
Batman and Robin attempt to capture the Joker, but also teach a lesson about crossing the street safely. Holy manhole!
(First: Episode 0090)

Cast
Luis looks for the SALIDA in a brick room.
(First: Episode 0407)

Cartoon
A boy passes by various signs before reaching the SALIDA.
(First: Episode 0500)

Film
A woman asks a boy how a glass of milk was spilled on the table, so the boy offers several outlandish scenarios before telling her the truth: it was him.
(First: Episode 0212)

Muppets
Ernie & Bert — Ernie is thirsty, and imagines that he's drinking nice cold water. Irritated, Bert tells him to go get a real glass of water. Ernie does, but then he annoys Bert by saying that now he's hungry. He then proceeds to eat an imaginary peanut butter and banana sandwich.
(First: Episode 0459)

Film
Sesame Street Animal Films: The snouts, tails and bodies of pigs, with a soundtrack of pigs squealing.
(First: Episode 0179)

SCENE 2
Susan goes to Oscar's Break-It Shop to have a board broken. Oscar breaks the board, karate style, in geometric forms.

Cartoon
Jazz #9
(First: Episode 0137)

Film
The Mad Painter #9
(First: Episode 0338)

Muppets
Grover and George sing "Two G Sounds."
(First: Episode 0358)

Celebrity
Lorne Greene and the Bonanza cast add two horses and one horse to make three horses.
(First: Episode 0150)

Cartoon
A penguin repeats the rhythms of the sounds it hears, which include a drum, a door knock, a saw and a typewriter.
Artists: The Hubleys
(First: Episode 0239)

Song
Joe Raposo sings "Eating" while animals eat.
(First: Episode 0106)

Cartoon
A goat discusses the letter "G". A man comes by to also talk about G, but rather than point out that "goat" is a G word, he observes the grass. Disgusted, the goat butts the man out of the way.
(First: Episode 0085)

Cartoon
A gorilla who knows G words applies for a job.
(First: Episode 0131)

Muppets
Ernie & Bert — Ernie makes a clay bust of Bert, but runs out of clay for the nose, so he pulls Bert's nose off and puts it on the statue.
(First: Episode 0463)

SCENE 3
Luis makes a trash can shaped piñata for Oscar to break.

Cartoon
A man pushes up a lazy UP.
(First: Episode 0316)

Cartoon
Boy and the UP balloons
(First: Episode 0364)

Cast
Maria sings "Three Whipped Cream Pies on the Wall" (which she eventually gets pelted with).
(First: Episode 0637)

Cartoon
A boy leads his sister up and down a staircase.
Artist: Cliff Roberts
(First: Episode 0526)

Muppets
Roosevelt Franklin Elementary School: Roosevelt Franklin has his students stand up and sit down to learn about the opposites.
(First: Episode 0518)

Cartoon
E for Elephant & Elk, the nominees for best E animal.
(First: Episode 0486)

Cartoon
E for Erase
(First: Episode 0486)

Muppets
Ernie & Bert — Bert thinks that Ernie has eaten his cookies, but it turns out that Cookie Monster (dressed as Ernie) ate the cookies.
(First: Episode 0158)

Film
Things that begin with G
(First: Episode 0357)

Cartoon
A girl explains (in poetry) how she failed trying to make a snowman without using snow.
(First: Episode 0480)

Cast
Bob and Maria are spies who meet under a street lamp and greet each other with a recitation of "Hey Diddle Diddle". Once they've confirmed each others identities, Maria produces a card with shapes and a number while Bob shifts to a rendition of "One of These Things" with a British accent.
(First: Episode 0592)

Cartoon
E for Eel
(First: Episode 0408)

Cartoon
Willie Wimple went a-boatin' and polluted the river.
Artist: Abe Levitow
(First: Episode 0561)




Muppets
Big Bird announces that Grover will demonstrate the number 2 by doing two chin-ups. He does it, but then Big Bird asks him to do two more sets, to make sure the audience gets it. When Big Bird thinks they've got it, he announces that Grover will now demonstrate the number 18! Grover faints.
(First: Episode 0547)

Film
A gymnast illustrates up and down.
(First: Episode 0526)

Muppets
Muppet & Kid Moment — Herry asks John-John if he knows the difference between up and down.
(First: Episode 0565)

Cartoon
The story of an old woman who lived in a nine.
Artist: Bud Luckey
(First: Episode 0512)

SCENE 4
Biff and Sully bring Oscar a giant rock to break. He blows it up with dynamite, and winds up in shambles. Luis and Gordon suggest that Oscar stops breaking things, but he breaks one more thing: his Break-it Shop sign.

Celebrity
The stars of Bonanza appear: Hoss and Mr. Cartwright take turns saying letters of the alphabet; Little Joe rides up in time for Z.
(First: Episode 0136)

Cartoon
G for goat (repeat)

Film
A scuba diver shows up and down.
(First: Episode 0526)

Cartoon
G For Giggle (voice of Allen Swift)
(First: Episode 0357)

SCENE 5
Biff, Sully and the cast clean up after the big blast. The sponsors are announced and the credits roll.