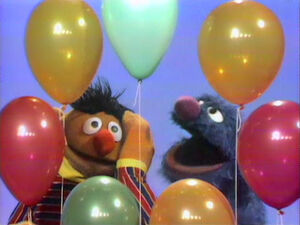 Oscar buys a newspaper to make trash out of it. He plans to burn it up to roast some shoes.
Oscar wants to buy the rocks that hold down the newspapers for his rock collection.
Reluctantly, Oscar cleans up the mess created by the newspapers blown away by the wind. He feels guilty about the mess by taking away the stones used to hold the newspapers down.
Big Bird gets into trouble trying to demonstrate the concept of front and back.
Three Anything Muppets (including George) individually try to sell lemons, water, and sugar. After all of their businesses fail, the three cooperate to start a lemonade stand. (First: Episode 0335)
Prince Charming kisses Big Bird, believing that he's Sleeping Beauty under a curse.
Ernie & Bert — Ernie tries to count his balloons. The balloons are arranged in a circle, so he continues counting around the circle, and counts some of them twice. Grover has a solution -- he pops each of the balloons as he counts them. (First: Episode 0133)
Ernie & Bert — While Ernie looks after Hooper's Store, Bert asks him for something to drink. Ernie starts out with a glass of unflavored soda water, tastes it, and decides it's too dull for his ol' buddy Bert. To Bert's dismay, Ernie then adds some strawberry syrup to the soda water, then a scoop of ice cream, and finally, some whipped cream. Now it's an ice cream soda, which Bert doesn't want... but Ernie does. (First: Episode 0539)
Community content is available under
CC-BY-SA
unless otherwise noted.