Sesame Street
Plot
Maria borrows a cup of sugar from Oscar's kitchen.
Air date
December 20, 1974
Season
Season 6 (1974-1975)
Sponsors
O, S, 3

This episode guide has been compiled from materials at the CTW Archives.

ⓘ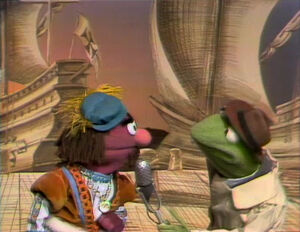 Oscar won't give Maria a cup of sugar unless she gets it herself from his kitchen. Maria hears a great variety of sounds in the total darkness inside Oscar's trash can.
Old West: Sinister Sam comes to the saloon, looking for Doc Holiday. He questions the frightened townspeople, looking for the doctor, but all he can find is a mailman and a fire fighter. Sam says that he needs the doctor, because he's got an itchy trigger finger. He locates the doctor, cowering under a table. The doctor asks what Sam wants with him, and the mean hombre says that his finger is really itchy -- it's driving him crazy. Is it mosquito bite? Should he use some lotion on it? Doc Holiday faints. Sam shrugs, and joins the other patrons at the bar for some milk.
Big Bird and a kid pretend being baby and mommy.
Ernie & Bert — Ernie pretends to be a dog and a duck. Bert then pretends to be a train, and does it so well that a train conductor and passengers come through the apartment.
Cartoon: A caterpillar escapes a hungry bird by turning into a butterfly. (EKA: Episode 0666)