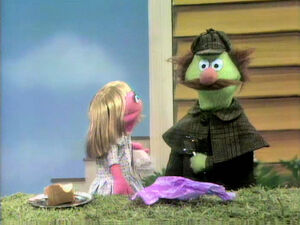 Sherlock Hemlock tries to figure out why there's a terrible mess all over the yard – including horns, paper hats, cake, candles and crumpled-up wrapping paper. He decides that the mess was left over after a Twiddlebug dance. (First: Episode 0178)
David tries to sell two sets of books, a four-volume history of the number 4 and a four-volume history of the letter Q.
Ernie & Bert — Ernie notices that none of the lampposts are on, and the lights won't turn on. Bert says that there is a blackout, but has to repeat himself when Ernie suggests they watch TV, play a record and listen to the radio. Ernie decides to call someone to see if anybody else knows about it. He calls Oscar the Grouch, who grouchily asks who's calling and threatens to "see to it that you don't sleep for a week." Ernie says "It's Bert" and hangs up. (First: Episode 0652)
Ernie & Bert — Herry Monster holds a sign with the word NO on it, and tells Ernie that he can make him read his sign, to which Ernie replies "Oh no you can't!" When Ernie gets the joke, he tries it on Bert, but the gag backfires on him when Bert bets he can get Ernie to read the sign. (First: Episode 0416)
Bob and David encounter some bread with a "NO" sign on it. They eat it any way and suffer altered appearances.
Bob closes his eyes and guesses who's voice is saying "Hi Bob!" He then brings the kids to a special zoo, where they guess the animals sounds with their eyes closed.
Bob and The Count classify by form using some produce and a basketball.
Community content is available under
CC-BY-SA
unless otherwise noted.