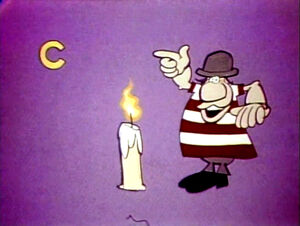 Ernie & Bert — Ernie brings an umbrella, a flashlight, and Bert's bowling ball to the bathtub, just in case the electricity goes out, the roof leaks, and somebody shows up asking to borrow a bowling ball. Bert thinks that Ernie is being ridiculous -- but everything happens, just as Ernie predicted. (First: Episode 0269)
Cookie Monster: Herbert Birdsfoot invents a complicated machine, to test Cookie Monster's problem-solving abilities. Cookie Monster needs to pull the string to raise the glass cover off the plateful of cookies at the other end -- but when he lets go to retrieve the cookies, the cover will fall again. Herbert hears Cookie Monster approaching, and hides to observe him. Cookie investigates the machine for a moment, then gets the cookies by karate-chopping the glass cover. (First: Episode 0132)
Mr. Hooper tries to teach Big Bird how to pronounce his name by breaking the word into two syllables.
C for Coconut: On a desert island, a parched Luis finds a coconut, which has a letter C inside.
Oscar, David and the kids sort by size using some "No Singing" signs.
Cartoon: C is for Candle (blows man away)
Cartoon: C is for Canary (role reversal)
Community content is available under
CC-BY-SA
unless otherwise noted.