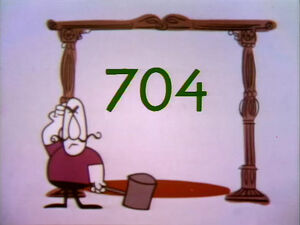 Picture
Segment
Description

SCENE 1
Gordon and Susan confront Oscar the Grouch about playing his trumpet too loudly (and awfully), but he claims they have no right to tell him what to do. Susan admits they can't tell him not to play his trumpet, so they vacate the area.

Cartoon
A boy talks about his pet letter Y, named Yetta.
(First: Episode 0443)

Muppets
Old West: Sinister Sam is looking for the biggest man in the saloon. The frightened customers point him towards Big Barney, who's cowering under the table. When Sam discovers that Barney is the biggest man there, he gives him a hat: "This ol' hat here don't fit me. I thought maybe you could use it, huh? I'll see you, fellers." Sinister Sam leaves the baffled customers behind. "Now, that's a nice gesture," one says. "He's a little weird, but he's okay after all, isn't he?"
(First: Episode 0281)

Cartoon
Seven monsters cause havoc in a village.
Artists: Maurice Sendak, Fred Calvert
(First: Episode 0258)

Film
Y, for Yacht
(First: Episode 0471)

Cartoon
Y for yawn
(First: Episode 0301)

SCENE 2
After Oscar, Gordon, and the kids watch Alphabet Bates make a letter Y, Oscar decides to make some yucchy music.

Muppets
Ernie & Bert — Ernie wants Bert to pretend to be mad, but Bert says that he can't, because he has nothing to feel angry about. Ernie asks Bert to pretend that he borrowed Bert's paper clip collection, and lost his favorite paper clip. The thought makes Bert really mad. Bert gets tired out, and tells Ernie that he can't get mad anymore. Ernie makes a confession -- he really did lose Bert's favorite paper clip.
(First: Episode 0216)

Song
Joe Raposo sings "Feet (One Foot, Two Foot)."
(First: Episode 0233)

Cartoon
A yak discusses the letter "Y" on a stage, and is insulted when it is called a "Yakkity-yakkity-yak".
(First: Episode 0301)

SCENE 3
Oscar uses his trumpet to blow up a balloon. Gordon and Susan are glad it doesn't make any noise, but Oscar demonstrates that the sound became trapped in the balloon by popping it which sends notes out into the air.

Cartoon
"Seven Song (Song of Seven)"
(First: Episode 0011)

Muppets
The Count extinguishes electric candles by counting them with his finger. As he heads up the stairs for bed, he steps on Fatatita. He also tells his wolf Yuba to run and play with his friends.
(First: Episode 0545)

Cartoon
Find the camouflaged parrot.
Voice: Paul Dooley
(First: Episode 0516)

SCENE 4
Just as Gordon has decided he's had enough of Oscar's trumpet playing, he finds that the grouch has gotten quite good at it. Disappointed in his own failure to remain a bad trumpeter, Oscar takes up the saxophone.

Muppets
Kermit smells smoke. An Anything Muppet girl tells him that there's a fire "over there", and Kermit screams for the fireman. Grover comes along wearing a white coat and a stethoscope; then carrying a pitchfork, and talking about his cows, chickens and the barn. Kermit reminds him that a fireman puts out fires. When Grover finally arrives with a hose, they discover that the fire is coming from the girl toasting marshmallows over a small campfire.
(First: Episode 0348)

Cartoon
A man demonstrates Spanish words that start with the letter Y.
(First: Episode 0470)

Film
A wheel rolls away from a junkyard. A boy captures it to complete his wagon.
(First: Episode 0522)

Cartoon
"Nelly 1-10 / 10-1": Kids count numbers in a parade, which are interrupted by other participants.
Artist: Harvey Kurtzman
(First: Episode 0629)




Muppets
When Maurice, a hapless casanova, puts an Anything Muppet woman's head together, he tells her that he loves her, but it turns out she doesn't love him. He then proceeds to take her head apart, bit by bit, as he sings "I Want to Hold Your Ear" (as well as eyes, nose, tooth, and hair). After she walks off in a huff, he notices to his shock that the parts he set aside have attached themselves to the tablecloth, who thinks he's kinda cute.
(First: Episode 0524)

Cartoon
Big, bigger and biggest elephants
(First: Episode 0389)

Film
Two boys each have five cents - one has five pennies, one has a nickel. They see a dime along the way, which is worth ten. They ask the man at the store for change for the dime, and he gives them a nickel and five pennies. They spend their pennies, but then they want to buy an ice cream for ten cents and the machine only takes dimes. They give the store man their nickels in exchange for a dime and they share a fudgesicle.
(First: Episode 0132)

Muppets
Little Jerry and the Monotones sing "Danger."

Cartoon
Jazz #7
(First: Episode 0136)

Muppets
Lefty's boss makes sure Lefty knows the alphabet.
(First: Episode 0236)
Cartoon
C is for Cowboy
(First: Episode 0703)

Song
Joe Raposo sings "I'm an Aardvark."
(First: Episode 0425)

Cartoon
Three little men climb up the three flower stems.
(First: Episode 0634)

Muppets
Ernie & Bert — Ernie purchases a straw hat for Bert, and asks Cookie Monster which box the hat will go in.
(First: Episode 0438)

Song
"What Kids Are Made Of" - a song about body parts. (part 1)
(First: Episode 0003)

Cartoon
Y is for Yo-Yo
(First: Episode 0036)

Song
"What Kids Are Made Of" - a song about body parts. (part 2)
(First: Episode 0003)

SCENE 5
Susan sings a same/different song with a clone of herself.

Cartoon
C is for Canary
(First: Episode 0703)

Muppets
Ernie & Bert — Bert asks Ernie to share a banana with him. Ernie gets the inside of the banana, and gives Bert the peel.
(First: Episode 0464)

Cartoon
Speech Balloon: C - Cap
(First: Episode 0154)

Muppets
Kermit the Frog, Smart Person, helps Max Ferbilfeemer (Luis) learn the difference between happy and scared.

Film
The snouts, tails and bodies of pigs, with a soundtrack of pigs squealing.
(First: Episode 0179)

Animation
Sand Y/y
(First: Episode 0626)

Muppets
Cookie Monster introduces the word "AMOR."
(First: Episode 0601)

Cartoon
Two guys row their oars in different directions, until they decide to cooperate and row together.
(First: Episode 0510)

Cartoon
Richard Bird (from the Sesame comic strip) subtracts two balloons from a group of three.
Artist: Cliff Roberts
(First: Episode 0530)

Cartoon
Dot Bridge #1: Dots appear uniformly
(First: Episode 0001)

SCENE 6
Oscar lures everyone over to his trash can with his skillfull trumpet playing, but then switches to a concert of sour notes.