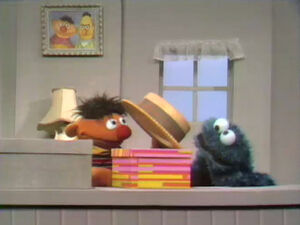 Oscar plays the trumpet, producing an awful sound. He quits playing when he's told how good he is at it. He later uses it to blow up a balloon to show big, bigger and biggest.
Farmer Grover: Kermit smells smoke. An Anything Muppet girl tells him that there's a fire "over there", and Kermit screams for the fireman. Grover comes along wearing a white coat and a stethoscope; then carrying a pitchfork, and talking about his cows, chickens and the barn. Kermit reminds him that a fireman puts out fires. When Grover finally arrives with a hose, they discover that the fire is coming from the girl toasting marshmallows over a small campfire. (First: Episode 0348)
When Maurice, a hapless casanova, puts an Pumpkin Anything Muppet woman's head together, he tells her that he loves her, but it turns out she doesn't love him. He then proceeds to take her head apart, bit by bit, as he sings "I Want to Hold Your Ear" (as well as eyes, nose, tooth, and hair). After she walks off in a huff, he notices to his shock that the parts he set aside have attached themselves to the tablecloth, who thinks he's kinda cute. (Spanish version) (EKA: Episode 0680)
Kermit the Frog, Smart Person, helps Max Ferbilfeemer (Luis) learn the difference between happy and scared.
Old West: Sinister Sam is looking for the biggest man in the saloon. The frightened customers point him towards Big Barney, who's cowering under the table. When Sam discovers that Barney is the biggest man there, he gives him a hat: "This ol' hat here don't fit me. I thought maybe you could use it, huh? I'll see you, fellers." Sinister Sam leaves the baffled customers behind. "Now, that's a nice gesture," one says. "He's a little weird, but he's okay after all, isn't he?" (First: Episode 0281)
Ernie & Bert — Ernie wants Bert to pretend to be mad, but Bert says that he can't, because he has nothing to feel angry about. Ernie asks Bert to pretend that he borrowed Bert's paper clip collection, and lost his favorite paper clip. The thought makes Bert really mad. Bert gets tired out, and tells Ernie that he can't get mad anymore. Ernie makes a confession -- he really did lose Bert's favorite paper clip. (First: Episode 0216)
Community content is available under
CC-BY-SA
unless otherwise noted.