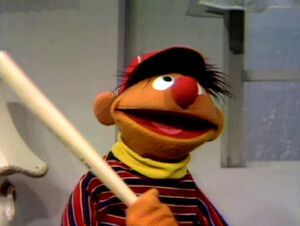 David has written a sentence in Spanish to tell Maria, but he loses the paper and forgets the sentence.
Ernie & Bert — Ernie is sad, because it's raining and he can't play baseball. Bert encourages him to imagine that he's playing instead. In Ernie's imagination, he hits a high fly ball that lands in the ocean. When Bert tells Ernie that the sun has come out, Ernie says that he can't go out and play -- his ball fell in the ocean. (EKA: Episode 0678)
Ernie & Bert — Ernie has a so-called "magic" chain which can form into any shape he wants. Bert is dismissive of the chain's magic properties, but when he asks for the chain to provide a sandwich, it does. (EKA: Episode 0680)
Film: No matter how you arrange these nine people, they're still nine people.
Notes
Community content is available under
CC-BY-SA
unless otherwise noted.