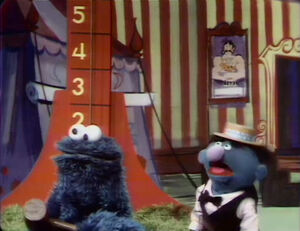 Oscar hates his alarm clock, because it wakes him up when he wants to sleep. On the other hand, he loves it, because when it wakes him up in the morning he won't sleep late and feel relaxed and rested.
Sesame Street News Flash: Kermit covers the race between the Tortoise and the Hare for Sesame Street Sports. When the race begins, the hare dawdles, since the tortoise is so slow he'll have time to win. Kermit rushes to the finish line so that he can see the results... and is crowned the winner. (EKA: Episode 0676)
Cookie Monster: Cookie Monster goes to the carnival and plays the "test your strength" game. Unbeknownst to him, the carnival barker is a dishonest man who rigged the game so that nobody could win -- until Cookie finds out what the prize is. (EKA: Episode 0449)
Big Bird asks Mr. Hooper for peanut butter. He gets a jar of peanut butter, which he uses to crunch down on a pile of unshelled peanuts.
Big Bird introduces a guessing trick with pictures of round objects and a house.
Roosevelt Franklin Elementary School: Roosevelt Franklin's class is feeling bored when he comes in, so he asks them to name some great people. Some of the names shouted out include Martin Luther King Jr., Joe Namath, Jackie Robinson, John F. Kennedy, Ray Charles, and Michael Jackson (Smart Tina says her pediatrician, which gets her funny looks). Roosevelt says those are all great people, but there are two they left out, and one of them is you. You are as great as you want to be and nobody can put you down. After their spirits are lifted, Hardhead Henry Harris asks who the other great person is. Roosevelt Franklin names himself as the class responds in mock derision.
(First: Episode 0515)