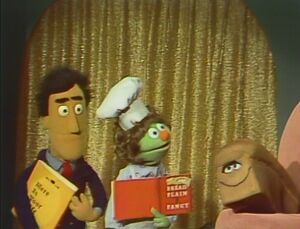 Herry Monster tries to help Mr. Hooper, but ends up making a mess of everything at the store. Later, Maria sees Herry crying, and arranges for him to meet with Mr. Hooper. They both apologize.
Ernie & Bert — Ernie tries to put a pot on Bert's head. Bert asks Ernie why he's doing that, and Ernie says that he broke a cookie jar. Ernie has to put the cookies somewhere, so he put them in the sugar bowl – and put the sugar in the flowerpot, which meant that he had to put the flower in a milk bottle. He put the milk in the soda bottle, and the soda into the fishbowl, and the fish in Bert's cowboy hat. Bert asks, "Now what am I going to wear when I want to play cowboy?" Ernie puts the pot on Bert's head and says, "Ride 'em, cowboy, Bert!" (EKA: Episode 0279)
Susan and the kids sort some fruit by shape.
Herry helps Maria put a spare tire on his car.
"Triangle and Square": A male voice narrates a story of a jazzy triangle who loved to dance, and a square square. The triangle likes being flexible, but the square would rather be stiff and *square*. (First: Episode 0007)
Film: While watching her goldfish, a girl wonders what the world is like from her goldfish's perspective.
Community content is available under
CC-BY-SA
unless otherwise noted.