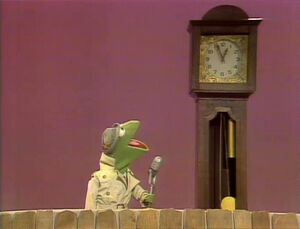 Oscar thinks it's silly to go to school when he already knows a lot that he learned from his Uncle Ebenezer Grouch. Oscar opens a Grouch school to pass on his wisdom.
Sesame Street News Flash: Kermit stands by a grandfather clock waiting for a mouse to run up it, acting out "Hickory Dickory Dock". Gladys the Cow and a duck show up instead. Finally, a horse comes in and explains that the mouse can't make it. The horse runs through the clock, breaking it in the process.
Super Grover: Grover Kent comes across a little girl crying because she can't get home. While Kent looks for a telephone booth, the little girl reads the sign she is standing next to and realizes that she is standing next to one. Kent rushes past the girl, who is about to use a dime to call her mother, and transforms into Super Grover -- after a few times of not quite changing into his costume properly. Now, ready for superhero'ing, Super Grover lifts the booth up with the little girl inside and attempts to take her home.(First: Episode 0647)
Ernie & Bert — Ernie has an important note for Bert, but he can't find it. He looks through the trash can for it, and finds the note, which is a reminder that it is Bert's day to clean the apartment. (First: Episode 0255)
As ominous music plays, The Count walks around his castle, checks out the mirror (he has no reflection), and greets his bats. The mailman (Jim Henson) arrives, with a bunch of letters for him. He wonders why there are so many. The Count says that he wrote them all himself, so he could count them...and then he does. (First: Episode 0420)
Big Bird writes a poem about heavy and light.
Community content is available under
CC-BY-SA
unless otherwise noted.