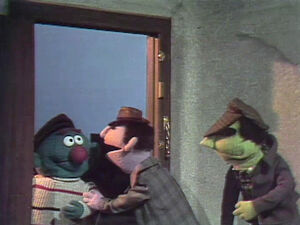 Oscar has just acquired three paintings at the Grouch Fair, and everybody thinks they look terrible.
Cookie Monster: Two Anything Muppet kids argue over a cookie. Cookie Monster arrives and says that the smallest person should get the cookie, and then, as the kids argue over which one is smaller, Cookie Monster shrinks himself. (EKA: Episode 0592)
Ernie & Bert — Lefty the Salesman wants to sell Ernie a painting of a tree, which he says is a picture of four elephants. Ernie doesn't see the four elephants, so Lefty offers to show him the elephants if Ernie will buy the picture for a nickel. Lefty points out the elephants, which are actually spaces in the tree's branches. Ernie shells out for the picture. Ernie wants to pull the same trick on Bert, but Bert notices the elephants right away. (First: Episode 0278)
Cookie Monster goes shopping, but he wants the smallest cookies, because they pour into his tummy very fast.
Community content is available under
CC-BY-SA
unless otherwise noted.