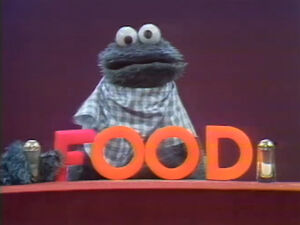 Bad Barney blackmails Big Bird into doing his work after threatening to tell Willy the fruit vendor that Big Bird has stolen a zucchini.
Ernie & Bert — At the movie theater, Ernie makes some loud noises while he unwraps his candy bar, eats his peanuts, and drinks his soda. Finally, Bert loses his temper and shouts at Ernie to be quiet, at which point the usher enters and throws Bert out. (First: Episode 0536)
Cookie Monster sees styrofoam letters that spell the word FOOD. After he sounds them out, he dons a bib, sprinkles salt and pepper on the letters, and not only eats those ... but the salt and pepper shakers AND the bib to boot! (First: Episode 0601)
Guy Smiley hosts "The Remembering Game", a game show in which the contestants must match pictures based on memory. The winner gets whatever item was in the pictures he matched, and the other contestant wins the item from the remaining two pictures as a consolation prize. Bill Smith wins a cookie, and Cookie Monster wins a jet plane. Disappointed, Cookie Monster suggests that they switch prizes. (EKA: Episode 0310)
Gordon and Maria sort by function using some drinks and a potato.
Community content is available under
CC-BY-SA
unless otherwise noted.