Sesame Street
Bob and Big Bird discuss which is better to have, a beak or a nose.
Air date
January 29, 1975
Season
Season 6 (1974-1975)

Sponsors
U, 9

This episode guide has been compiled from materials at the CTW Archives.

ⓘ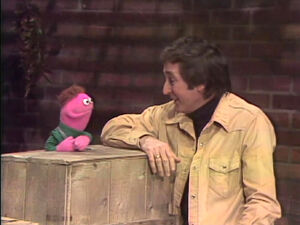 Ernie & Bert — Ernie and Bert go to bed, but they hear water dripping. Bert asks Ernie to do something about the sound, so Ernie puts the stereo on to drown out the dripping sound. (First: Episode 0131)
Ernie & Bert — Ernie pretends to be a dog and a duck. Bert then pretends to be a train, and does it so well that a train conductor and passengers come through the apartment. (First: Episode 0645)
In a circus routine, Luis the ringmaster demonstrates "before" and "after". Freeze-frame technology allows his assistant, Linda, to show each action as she jumps through a hoop, slips on a banana peel, and gets a bucket of water thrown at her face.
Film: At a fiesta, a group of kids try to break through a piñata. (First: Episode 0620)
Cast: Maria and David look for each other in the park, but have trouble finding one another. The concepts of 'above' and 'below' are demonstrated. (EKA: Episode 0567)
Community content is available under
CC-BY-SA
unless otherwise noted.