Sesame Street
Sam the Machine demonstrates some and more
Air date
January 31, 1975
Season
Season 6 (1974-1975)

Sponsors
C, Y, 11

This episode guide has been compiled from script materials provided by a trusted source.

ⓘ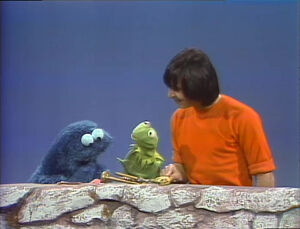 Picture
Segment
Description

SCENE 1
Susan sings "Grow".
Cartoon
C is for Cowboy
(First: Episode 0703)

Muppets
Marshal Grover asks Fred the Wonder Horse why he's walking backwards -- he can only see where he's been, and not where he's going. He also wants to know what happened to Fred's head. Fred explains that Marshal Grover doesn't know the difference between front and back. "That is a terrible, mean, cruel thing to say to me, Fred!" Marshal Grover exclaims. "It is true, but..." Fred tells Grover that he's facing backward, and if he turns around, he'll see Fred's head. Grover turns around, and cries: "Oh, Fred! I've missed you! Oh, it's good to see you!" Fred says that if he stays turned around, he'll be able to see where he's going. Grover tries it, and he's proud to know the difference between front and back. Unfortunately, now his head is resting on the saddle, with his feet in the air.
(First: Episode 0629)

Cartoon
What if a turtle and rabbit switched appearances?
(First: Episode 0451)

Cartoon
A yak discusses the letter "Y" on a stage, and is insulted when it is called a "Yakkity-yakkity-yak".
(First: Episode 0301)

Muppets
"The "OP" Family Song"
(First: Episode 0146)

Film
Y, for Yacht
(First: Episode 0471)

Cartoon
A boy can yell and yodel, and his dog can yelp and yowl. They can both yawn.
(First: Episode 0353)

SCENE 2
Sam the Robot has been programmed to demonstrate some and more. He does so with Oscar's trash.

Muppets
Ernie & Bert — Ernie asks Bert to go play in the park with him. When Bert says no, Ernie wonders if he isn't feeling well and starts to examine him.
(First: Episode 0124)

Cartoon
The life of a Yellow Yahoo
(First: Episode 0043)

Film
David narrates some films showing the homes of animals.
(First: Episode 0452)

Muppets
An Anything Muppet girl shows the viewers that the number 11 is the same right side up and upside down. (shown in Spanish, then English)
(First: Episode 0183)
Spanish – (First: Episode 0362)

Cartoon
"It's a Lovely Eleven Morning"
Artist: Bud Luckey
(First: Episode 0362)

SCENE 3
At Hooper's Store, Susan gets off the phone with Alphabet Bates, who is writing a letter Y in the sky.

Film
A magnetic crane picks up large pieces of metal.
(First: Episode 0009)

Muppets
Herry Monster demonstrates "back" and "front" with three kids. First, he points out that the viewer can see the children's fronts, then (after scaring the kids) they see their backs as they run away.
(First: Episode 0365)

Cartoon
Speech Balloon: C - Cap
(First: Episode 0154)

Film
Several people help a man when his car is stuck in the mud.
(First: Episode 0619)

Cartoon
A boy talks about his pet letter Y, named Yetta.
(First: Episode 0443)

Cartoon
Y for yawn
(First: Episode 0301)

Muppets
Cookie Monster is about to eat a cookie, when a sad-looking girl approaches and stares at him. He tries to eat the cookie, but can't do it. He breaks the cookie in half and shares the cookie with the girl. He eats his half of the cookie. When the girl eats her half, she eats it just like Cookie Monster.
(First: Episode 0623)

Animation
A grape blows reveille and inspects the "troops" -- 12 raisins on a slice of white bread.
(First: Episode 0618)

Muppets / Cast
Luis has four things lined up in a row - a harmonica, a whistle, a trumpet, and a banana. He tells Kermit that one of these doesn't belong, and Kermit chooses the banana because you can make music with the instruments, but you eat the banana... or so he thinks. Luis blows into the banana and appears to be playing a horn until he reveals he was honking a horn behind his back the whole time. Amused by the trick, they decide to play the same joke on Cookie Monster, but Cookie has a different idea--you eat the harmonica, whistle, and trumpet, and make beautiful music with the banana.
(First: Episode 0553)

Muppets
Ernie tries to find another cookie with a criss-cross of icing. He has trouble matching cookies, but Cookie Monster "matches" them by eating them (putting them all in the same place, his stomach).
(First: Episode 0169)

Song
Joe Raposo sings "Everybody Sleeps."
(First: Episode 0406)

Muppets
Muppet & Kid Moment — Kermit, Chris and Stephanie count ears.
(First: Episode 0458)

Cartoon
Which footprint doesn't belong?
(First: Episode 0509)

Cast
Part 1: The Flying Stupendos (Luis, Maria, and David) attempt a trick on the teeter-totter, in which Luis will jump onto one end and catapult Maria onto David's shoulders. On the first try, the teeter-totter breaks.
(First: Episode 0585)

Film
Sesame Street Animal Films: Sidewinder snake
(First: Episode 0514)

Cast
Part 2: On the second try (with a new teeter-totter), Maria is launched out of shot and winds up hanging off-screen from the ceiling.
(First: Episode 0585)

Muppets
Grover the Elevator Operator demonstrates front and back by telling the passengers on his elevator where to stand.
(First: Episode 0469)

Cast
Part 3: On the third and final try, Luis lands on the floor missing the teeter-totter, and then sits down on his end, whereupon he and Maria see-saw together, as David walks away unimpressed.
(First: Episode 0585)

Transition
Bridge #17 - Hourglass Fast/Empty
(First: Episode 0288)

SCENE 4
Big Bird demonstrates some, more and all by having Mr. Snuffleupagus come through his doorway, one part at a time.

Muppets
Ernie & Bert — Ernie eats one of the two pieces of chocolate cake that Bert was saving for their dessert. Bert sees Ernie holding a fork in one hand and a napkin with some chocolate on it in the other--and in front of him is a plate full of chocolate-cake crumbs. When Bert accuses Ernie of eating the cake, Ernie tells Bert that a monster came in, ate Bert's cake, and framed Ernie. Bert doesn't believe Ernie's lie. But when Bert leaves the room, Beautiful Day Monster comes in and does exactly what Ernie told Bert happened to the first piece. Ernie tries to explain, but Bert says, "I don't want to talk about it."
(First: Episode 0119)

Cartoon
C - Cake
(First: Episode 0153)

Cartoon
A bully won't give the kids' baseball back. The boy imagines a few scenarios before ultimately calling for his dog.
Artist: John and Faith Hubley
(First: Episode 0215)

Animation
Sand Y/y
(First: Episode 0626)

SCENE 5
The sponsors are announced and the credits roll.