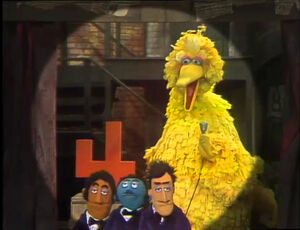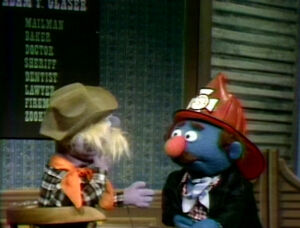 Grover does his impersonation of the number four, with Big Bird's help.
On "The Number Four Show", Big Bird tells the cast that a mystery guest will jump four times. A great commotion takes place when Mr. Snuffleupagus, the mystery guest, jumps.
Cookie Monster and Ernie: Ernie has four apples, and wants to draw the number 4 to represent that quantity. Cookie Monster comes along and wants to eat an apple, so Ernie crosses out the 4 and draws a 3, but then Cookie Monster decides not to eat the apple, so Ernie crosses out the 3 again and draws another 4. (First: Episode 0140)
Big Bird introduces The Count on "The Number Four Show", and instructs him to count only four things. The Count decides to count four kids from the audience, but he never stops counting because he decides to count the same four kids in many languages.
Notes
Sources
↑ Bailey, Joseph. Memoirs of a Muppets Writer, page 93.