Sesame Street
The Count cries when there's nothing to count.
Air date
February 7, 1975
Season
Season 6 (1974-1975)

Sponsors
J, 5

This episode guide has been compiled from materials at the CTW Archives.

ⓘ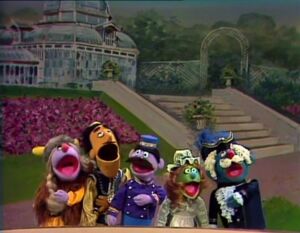 The Count starts crying when he realizes that there's nothing to count. Instead of drying his tears as David suggests, the Count starts counting the teardrops.
Roosevelt Franklin Elementary School: Using pictures on the blackboard, Roosevelt Franklin tells the class a story about two little dogs who find a big ol' bone in a doghouse. They try to take the bone, but it turns out that it belongs to a big, mean dog, who chases them away. The moral of the story: "If something's not yours, leave it alone; could be a big ol' dog in the doghouse." (First: Episode 0529)
Ernie & Bert — Bert says that he saw Ernie eating his cookies. The culprit turns out to be Cookie Monster, who's disguised in Ernie's hair and shirt. (First: Episode 0158)
As Big Bird rests, Bob points to him and says "Doze." He, Gordon and David proceed to find more rhymes for the word.
Cartoon: Things say that other things are small, but then something comes along that's bigger, or smaller, or whatever. (First: Episode 0320)
Film: James narrates a film of his life on a pueblo in New Mexico. (First: Episode 0153)
Community content is available under
CC-BY-SA
unless otherwise noted.