Sesame Street
Herry shows off how strong he is
Air date
February 13, 1975
Season
Season 6 (1974-1975)

Sponsors
P, R, 9

This episode guide has been compiled from script materials provided by a trusted source.

ⓘ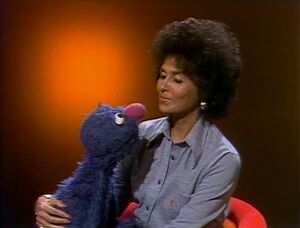 Picture
Segment
Description

SCENE 1
Herry asks Luis, David and Jay to play with him, but they all refuse because they have something to do. He claims they don't know all the things he can do.

Cartoon
The story of an old woman who lived in a nine.
Artist: Bud Luckey
(First: Episode 0512)

Muppets
Ernie & Bert — Ernie has a collection of Rs in a box. He shows Bert, who says that Ernie will be the laughingstock of Sesame Street if anyone else finds out. Ernie sadly throws away his Rs - and Bert asks to have the box for his J collection.
(First: Episode 0014)

SCENE 2
Herry tries to show how strong, rough and tough he is by lifting a 6000-lb. barbell, but nobody pays attention when he's "here". Luis tells him to go "there" to the newsstand, then David tells him to go "there" to the basketball court, but Jay tells him to go "there" to the 123 steps. Herry gets so angry that he ends up throwing his barbell through Susan's window, which he immediately regrets.

Film
Sesame Street Animal Films: Lion family.
(First: Episode 0018)

Cartoon
A wizard turns into R things.
(First: Episode 0369)

SCENE 3
Susan assumes the kids broke her window, but soon sees Herry, who denies that he's crying because he's rough and tough. She forgives Herry for the broken window, reassuring him that even strong, rough, tough guys like him can get angry and sad.

Cartoon
R is for Rooster, Robber, and Rake...
Artist: Fred Calvert
(First: Episode 0011)

Film
Letter R hoist
Music: Joe Raposo
(First: Episode 0315)

Muppets
Kermit's Lectures: Kermit and Grover demonstrate "here" and "there".
(First: Episode 0277)

Cast
Marvelous Maria rides her trike in 10 circles (then backwards).
(First: Episode 0443)

Cartoon
Jazz #9
(First: Episode 0137)

Muppets
Grover the Elevator Operator: Grover's elevator holds five people.
(First: Episode 0462)

Film
Sesame Street Animal Films: Jack Rabbit
Music: Joe Raposo
(First: Episode 0390)

Animation
Children's voiceovers (in English and Spanish) dictate how to draw a male's body.
(First: Episode 0528)

Film
"There's a Bird On Me" (Joe Raposo)
(First: Episode 0416)

Cast
No matter how you arrange these nine people, they're still nine people.
(First: Episode 0413)

Cartoon
A woman fixes her car by putting a letter r under the hood, and it goes "Rrrrrrrrrrrrrrrrrrr!"
(First: Episode 0410)

Film
A voiceover lists many R words.
(First: Episode 0661)

Cast
Luis demonstrates how to use a can opener to open a can of spaghetti ... not realizing that it's open on the bottom already.
(First: Episode 0469)

Muppets
Two children, who can only read some words, resolve their fight over a large book by helping each other and reading alternate words.
(First: Episode 0297)

Cast
Maria demonstrates how a hammer is used by hammering a nail into a wall to hang up a picture. Then, the wall tips over on her.
(First: Episode 0469)

Cartoon
Kids on a bench wait for the bus: "Here comes the bus!"
(First: Episode 0632)

Film
A mom and her son comment on a film of various animal babies and their moms.
Music: Joe Raposo
(First: Episode 0096)

Cartoon
Three children are being chased by a giant mutant rabbit as fast rock music accompanies the chase. They outsmart him by hiding behind three trees.
Artist: Etienne Delessert
(First: Episode 0655)

Muppets
Old West: Bad Bart is looking for Marshal Earp to give her a big surprise. The terrified townspeople try to warn Marshal Earp -- but Bad Bart explains that a surprise is something that someone doesn't expect. He orders them not to say a word. It turns out the big surprise is a cake for Marshal Earp's birthday.
(First: Episode 0537)

Animation
Sand R/r
(First: Episode 0635)

Muppets
"How Do You Do" (Grover and Lena Horne)
(First: Episode 0536)

Cartoon
A boy says he has a big surprise in his hand.
(First: Episode 0557)

Cast
Bob and Mr. Hooper have a dispute over using a sole coat hanger for their coats. They eventually cooperate and put both their coats on the one hanger.
(First: Episode 0282)

Cartoon
Monster in the dark (finding a light switch)
(First: Episode 0493)

Muppets / Celebrity
Lena Horne and the Anything Muppets sing an upbeat version of "The Alphabet Song."
(First: Episode 0575)

Cartoon
Julius demonstrates "here" and "there", then ends up being "in pain."
Artist: Cliff Roberts
(First: Episode 0418)

Film
Kids narrate a film about water in hoses, fountains, puddles, streams, bathtubs, rivers, oceans, and other places.
(First: Episode 0135)

Cartoon
A short poem about a pirate and his puppy demonstrate the letter P.
(First: Episode 0057)

Insert
As The Count sleeps, he dreams about the numbers 1-20.
(First: Episode 0552)

Cartoon
A letter "P" sits on an island before a rotating sunset. The ridges of the letter "P" moves along the letter and flash in different colors.
(First: Episode 0452)

Insert
The Count counts even higher in his sleep.
(First: Episode 0552)

Cartoon
Speech Balloon: P - pin
(First: Episode 0054)

SCENE 4
Herry finishes helping Luis put in a new window, but notices that Oscar has taken away his barbells that he set aside while he was helping. He asks Oscar to give them back, but Oscar refuses. He eventually gets what he wants by lifting Oscar's can and shaking it.

Film
Marching band forms a square
(First: Episode 0514)

Cartoon
Speech Balloon: R for rabbit
(First: Episode 0014)

Film
A percussionist on the beach talks about how rhythm is everywhere, such as in breaking waves, walking and horse galloping. (edited)
(First: Episode 0032)

Cartoon
A little girl imagines what would happen if she dropped her bag of ping pong balls.
(First: Episode 0583)

SCENE 5
Herry gives Oscar a set of old, rusty barbells. Oscar thanks him, but immediately rescinds it. Herry announces the sponsors.