Sesame Street
Everyone pitches in to help Big Bird repair his nest
Air date
February 14, 1975
Season
Season 6 (1974-1975)

Sponsors
R, T, 10

This episode guide has been compiled from script materials provided by a trusted source.

ⓘ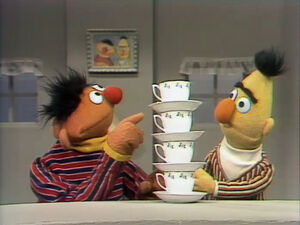 Picture
Segment
Description

Muppets
Here is Your Life: A loaf of bread is profiled.
(First: Episode 0709)

Cartoon
"Poverty T"
(First: Episode 0020)

SCENE 1
Big Bird is hurt because Luis, Gordon and Maria won't let him help fix a door hinge. They tell him he's not old enough.

Cartoon
A poem filled with T words, including a teacher, toys, Texas, and "turtles with brains".
Voice: Bob Arbogast
(First: Episode 0024)

SCENE 2
To prove that he's old enough to do anything, Big Bird wears a gray beard and carries a cane. Luis, Gordon and Maria agree to do something that old people do -- talk. Big Bird gets bored, and goes off with the Kids.

Insert
Scanimate Films #10
(First: Episode 0134)

Muppets
Roosevelt Franklin Elementary School: Roosevelt has Baby Breeze teach the class about traffic. Smart Tina thinks all one has to do is look at the traffic lights, but Baby Breeze tells her one should also look out for cars.
(First: Episode 0517)

Film
Field of hay (kid voice-overs)
Music: Joe Raposo
(First: Episode 0504)

Film
The letter T is a very useful letter.
(First: Episode 0402)

SCENE 3
Luis, Gordon and Maria offer to help Big Bird fix his nest. In the end, Big Bird agrees, and gives them instructions: "Now just take these little sticks... chew them up good... and then be sure to mix them with the right amount of mud."

Muppets
Ernie & Bert — Ernie stacks cups and saucers in order to count them, making Bert quite nervous. Luckily, they're glued together.
(First: Episode 0586)

Cartoon
Today's Secret Drawing is a mailman.
(First: Episode 0220)

Film
"Hey, let's make a road!" Kids do so at the beach, while a construction crew does the real thing.
(First: Episode 0295)

Cartoon
T is for Television
(First: Episode 0024)

Film
The Mad Painter #10
(First: Episode 0328)

Cartoon
T is for Television (Spanish)

Cast / Muppets
"The People in Your Neighborhood": Cleaner and Shoemaker
(First: Episode 0436)

Cartoon
What if a frog and a fly switched bodies? What do you think would happen?
Artist: Cliff Roberts
(First: Episode 0406)

Insert
The Alphabet Dancers form the letter T.
(First: Episode 0454)

Muppets
Muppet & Kid Moment — Ernie, Bert and Shola discuss the difference between "heavy" and "light".
(First: Episode 0549)

SCENE 4
Gordon hears Maria and Luis making small talk, but in Spanish, it sounds so much more interesting to him. The two perform a tango number about more phrases they can make more interesting by saying them in Spanish.

Muppets
Guy Smiley hosts "The Trading Game" with contestants Oscar the Grouch and Sally Screamer.
(First: Episode 0279)

Cartoon
A woman fixes her car by putting a letter r under the hood, and it goes "Rrrrrrrrrrrrrrrrrrr!"
(First: Episode 0410)

Song
Joe Raposo sings "Kangaroo Blues."
(First: Episode 0277)

Cartoon
A wizard turns into R things.
(First: Episode 0369)

Muppets
Ernie & Bert — Ernie makes a clay bust of Bert, but runs out of clay for the nose, so he pulls Bert's nose off and puts it on the statue.
(First: Episode 0463)

Cartoon
T for typewriter and toe
Artist: John Korty
(First: Episode 0506)

Celebrity
Flip Wilson shows how his teacher, Miss Johnson, taught the ABCs.
(First: Episode 0151)

Cartoon
Jazz #10 (Spanish)
(First: Episode 0306)

Muppets
Farley explains things one can do with their mind - he plans on going to the door, he imagines who's knocking at it, he remembers it's not his mother and he hopes there's not a scary monster at the door. Herry Monster surprises him by bursting through the door, frightening Farley away. Herry's sorry Farley ran away; he wanted to play.
(First: Episode 0180)

Cartoon
Various renderings of the word DANGER.
Artists: The Hubleys
(First: Episode 0151)

Cast
Maria sings "Three Whipped Cream Pies on the Wall" (which she eventually gets pelted with).
(First: Episode 0637)

Animation
An orange pops out of a basket of fruits and gets "made up" as the face of Carmen, the role in the opera of the same name. While singing "Habanera," the famed aria from the opera, Carmen loses her "face" and can't resume singing until the wig returns.
(First: Episode 0277)

Cartoon
A man talks about the capital T, but the top line slides down, forming a lowercase one. (Spanish)
(First: Episode 0376)

Muppets
Grover demonstrates heavy and light. First, he picks up a heavy barbell. Then he tries to pick up a light feather, but he can't move it. It turns out that the feather is attached to the top of Big Bird's head.
(First: Episode 0406)

Cartoon
Speech Balloon: T for train
(First: Episode 0022)

SCENE 5
The sponsors are announced and the credits roll.