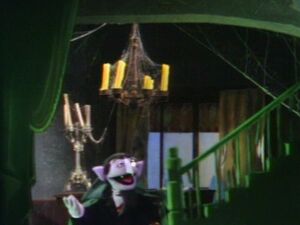 Pete Seeger sings a Cuban song called "Guantanamera" with Maria and the Kids.
Kermit at Home: Grover is outside in the snow, freezing. He keeps knocking on Kermit's door, asking how to get warm, and Kermit keeps telling him to come inside. Grover, missing the point, tries ideas of his own to get warm, but they don't work. Finally, Kermit tells Grover that if he wants to get warm, he should come inside. Excited, Grover pulls Kermit aside and slams the door, locking Kermit outside. Grover goes to sleep in Kermit's armchair while the frozen frog scrapes at the window. (EKA: Episode 0719)
Pete Seeger, Big Bird and the Kids sing "Cottage in the Woods".
Pete Seeger borrows a basket, chair legs and a sandbox from Oscar, and distributes them among the cast and the kids to play a rhythm. Pete plays "Proud Mary" on his guitar.
Community content is available under
CC-BY-SA
unless otherwise noted.