Sesame Street
Big Bird's cousin Herman visits Sesame Street.
Air date
February 21, 1975
Season
Season 6 (1974-1975)

Sponsors
D, W, 4

This episode guide has been compiled from materials at the CTW Archives.

ⓘ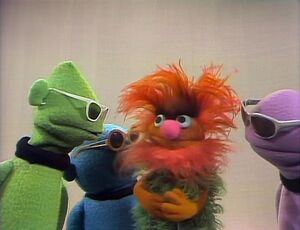 Big Bird's cousin, Herman Bird, is coming to visit from the country. Big Bird has built a house for his cousin -- but he forgot to hold the wood together, and it falls apart.
Maria asks Herman to return a watering can, thinking he's Big Bird.
Herman goes to sleep, but is woken up by the city noises, which are all strange to him.
Big Bird finally puts Herman to sleep by playing farm animal sounds on his tape recorder, but this wakes up everyone else in the neighborhood.
The Count's bats are upset; he always gets to count, but the bats don't. The Count decides to let the bats count all of the Counts, while the Count counts all the bats... but there's only one Count.
Ernie & Bert — Bert asks Ernie about his day. Ernie doesn't think anything interesting happened. Bert points out that Ernie went to the zoo, but Ernie says nothing interesting happened at the zoo. Then he talks about a scratch he got on his finger, and talks about how he got it, realizing in the process that something interesting did happen after all. (First: Episode 0020)
Ernie & Bert — Ernie and Bert are watching TV, but Bert gets bored and decides to play a record. Ernie tells him to turn down the volume, but Bert won't, so Ernie drowns out Bert's music by playing the radio. Bert then retaliates by turning on the blender. With all four things running at once, they blow a fuse. Bert goes outside to fix the fuse box, while Ernie turns off all the things that were running. When the lights are back on, they decide to play cards instead of fight. (First: Episode 0003)
Bert says that he saw Ernie eating his cookies. The culprit turns out to be Cookie Monster, who's disguised in Ernie's hair and shirt. (EKA: Episode 0158)
Community content is available under
CC-BY-SA
unless otherwise noted.