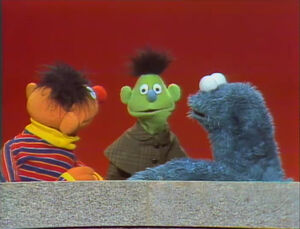 Ernie & Bert — Herry Monster holds a sign with the word NO on it, and tells Ernie that he can make him read his sign, to which Ernie replies "Oh no you can't!" When Ernie gets the joke, he tries it on Bert, but the gag backfires on him when Bert bets he can get Ernie to read the sign. (EKA: Episode 0676)
Cookie Monster imagines that everything he touches turns into cookies.
Grover goes to Hooper's Store for soup, but Big Bird, who's watching the store for Mr. Hooper, asks Grover to join him having fun by just saying a word that would rhyme with what he wants to eat.
Ernie and Cookie Monster note that they're the same in a lot of ways, and then become paranoid that they can't tell each other apart. An Anything Muppet tells them how they are different, which relieves them of their stress.