Sesame Street
Oscar doesn't want David to become a lawyer.
Air date
February 28, 1975
Season
Season 6 (1974-1975)

Sponsors
M, 9

This episode guide has been compiled from materials at the CTW Archives.

ⓘ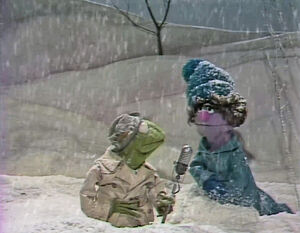 Oscar doesn't want David to become a lawyer. He wants him to keep working at Hooper's Store, the only place where Oscar can drink the worst coffee in the world.
An Anything Muppet boy and girl share a bag of jellybeans, but they're scared away by a monster. They make friends with the monster, and share the jellybeans with him. (First: Episode 0016)
An Anything Muppet man arrives at a gas station, hoping to be filled in a short time. Instead, his car takes a long time to fill while the attendant fills other cars in a short time. (First: Episode 0540)
Ernie & Bert — While Ernie looks after Hooper's Store, Bert asks him for something to drink. Ernie starts out with a glass of unflavored soda water, tastes it, and decides it's too dull for his ol' buddy Bert. To Bert's dismay, Ernie then adds some strawberry syrup to the soda water, then a scoop of ice cream, and finally some whipped cream. Now it's an ice cream soda, which Bert doesn't want... but Ernie does. (First: Episode 0539)
Big Bird reads a poem that he's written about the hawk.
Sesame Street News Flash: Part 1: Kermit has received a phone call which tells him that there is someone who has been standing out in a terrible snow storm for a long time. Kermit asks everyone who passes by if they are that person, but everyone he asks has only been out in the snow for a short time. Kermit refuses to give up, however, and tells us to stay tuned.
Part 2: Kermit, now shivering a little, is still looking for the person who's been standing out in the snow for a long time. Still no success yet.
Part 3: Kermit is now buried up to his neck in snow, colder than ever. He calls the attention of passerby Harvey Kneeslapper, who tells Kermit that he is the one who made the call, which was a prank call. As it turns out, Kermit was the one standing out in the storm.
Community content is available under
CC-BY-SA
unless otherwise noted.