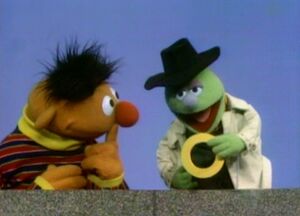 Everybody thinks it's The Count's birthday when they see him ordering a cake, candles, hats and balloons. The Count tells them the party is to celebrate National Counting Day.
The Count sings the National Counting Day song.
Ernie & Bert — Ernie has a licorice whip that he offers to share with Bert. He divides the licorice in half with a pair of scissors, but then discovers that Bert's half is longer than his. He cuts off a little bit of Bert's half, and eats it. Then he discovers that his own half is longer than Bert's, and that's not fair, so he cuts a bit off of his own, and eats it. Ernie goes back and forth, shaving off more and more, until the licorice whip is gone. (EKA: Episode 0560)
Film: A scuba diver collects shells, which some kids count in voice-over. (First: Episode 0474)
Cartoon: A man invites an M to dinner. The M is very appreciative, and makes "Mmmmmm" sounds. It eats all of the food at the table, and winds up eating the screen! (First: Episode 0276)
To get their mind off counting, Luis leads a sorting game using jars of jellybeans.