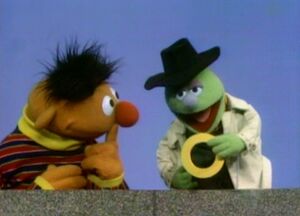 Everybody thinks it's The Count's birthday when they see him ordering a cake, candles, hats and balloons. The Count tells them the party is to celebrate National Counting Day.
The Count sings the National Counting Day song.
Ernie & Bert — Ernie has a licorice whip that he offers to share with Bert. He divides the licorice in half with a pair of scissors, but then discovers that Bert's half is longer than his. He cuts off a little bit of Bert's half, and eats it. Then he discovers that his own half is longer than Bert's, and that's not fair, so he cuts a bit off of his own, and eats it. Ernie goes back and forth, shaving off more and more, until the licorice whip is gone. (First: Episode 0461)
Film: A scuba diver collects shells, which some kids count in voice-over. (First: Episode 0474)
Cartoon: A man invites an M to dinner. The M is very appreciative, and makes "Mmmmmm" sounds. It eats all of the food at the table, and winds up eating the screen! (First: Episode 0276)
To get their mind off counting, Luis leads a sorting game using jars of jellybeans. But The Count manages to make it about counting anyhow; the smaller jars contain 752 jellybeans while the larger one has 1038 (numbers are approximate, but he did list them to all significant figures).
At one point, the adults express how they're being driven crazy by The Count's obsession. Maria says he counted the number of hairs on her head (9000-something), and Mr. Hooper tells how he counted the number of nails in his store (4000-something), both numbers to 4 significant digits.
In the final scene, at The Count's party, the adults are expressing relief that it's the end of National Counting Day. When The Count tells everyone that tomorrow is National Numbers Day, they let out a sigh of frustration. The day after that is also revealed to be number-related, as the sponsor letters and number are read.
Community content is available under
CC-BY-SA
unless otherwise noted.