Sesame Street
Plot
Sam the Machine tries to play music for David.
Air date
March 4, 1975
Season
Season 6 (1974-1975)
Sponsors
S, 11

This episode guide has been compiled from materials at the CTW Archives.

ⓘ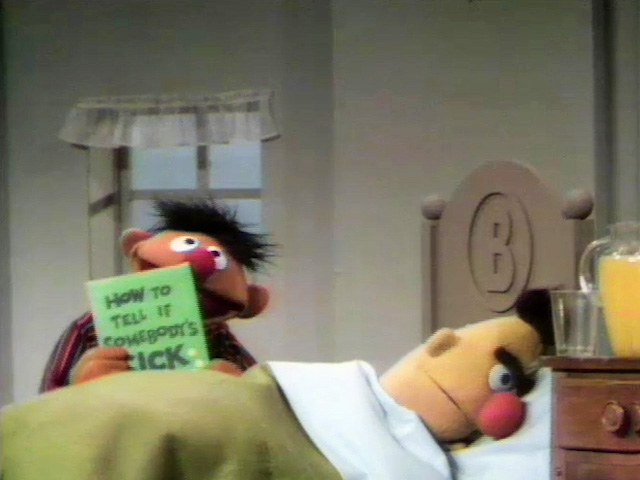 Big Bird makes a number 11 by making two stacks of boxes.
Cookie Monster: Two kids argue over a cookie. Cookie Monster arrives and says that the smallest person should get the cookie, and then, as the kids argue over which one is smaller, Cookie Monster shrinks himself. (EKA: Episode 0592)
David's radio is out of order, and David likes to study his law books while listening to music. Sam the Machine offers to play some music for him, but he ends up playing the wrong tune. (This contradicts episode 0789, in which David says that he can only study when it's quiet.)
Alphabet Bates makes the letter S in skywriting at the same time that Sam is making words that start with the same letter.
Ernie & Bert — Ernie has heard that somebody in the neighborhood is sick. He looks in a medical book to find out how to tell if someone is sick... not realizing that Bert is the one with a cold. (EKA: Episode 0543)
Dancer Clive Thompson moves his body parts as kids identify them in voiceover.
Song: "Watch the Dance": A singer points out the body parts of a dancer.