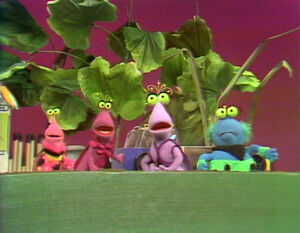 Oscar thinks that if he has duck pox then people will leave him alone, but it doesn't seem to work that way. Not even the sign he puts outside his trash can that warns of the danger doesn't keep people from worrying about him.
Oscar admits that his duck pox is fake; he takes off the circles taped onto his fur. He gives them to The Count who happily counts them.
Oscar has a terrible headache and wants help, but he's snubbed by everyone because he was rude to them before. In his desperation, he lets Susan rub his head -- but only under the condition that she keeps it a secret. His reputation as a Grouch is at stake.
Cartoon: "Poverty U" -- A figure gives a salute to the letter U, and presents the letter with a bouquet of flowers. (First: Episode 0036)
Film: Lemurs rest on tree branches.
Community content is available under
CC-BY-SA
unless otherwise noted.