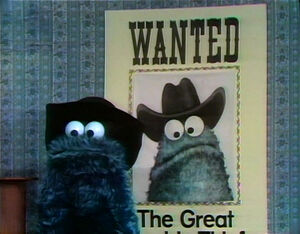 Oscar is annoyed when everyone he wants to chat with seems to be too busy. Maria suggests that he nap during the day, so he can talk to people at night. He hangs a huge black cloth around his trash can to block out the sun, so it looks like night. He attaches a cut-out moon and stars to the cloth. The cast enter his curtain, and decide to pretend it's really night.
Old West: Four Anything Muppet cowboys put up a Wanted poster for "the Great Cookie Thief", who's been stealing cookies from all the bakeries in these here parts. Cookie Monster is standing in front of the poster, and the others suspect that he's the Great Cookie Thief -- he has the same googly eyes, the same blue fur, and the same Western hat. They confront Cookie Monster, but he denies the charge: "Not have same mustache!" He shouts, "Look over there!" -- and while they're distracted, he draws a mustache on the poster. They apologize -- but then Cookie Monster takes off his hat, and cookies fall out. The Great Cookie Thief makes his escape. (First: Episode 0276)
Ernie tries to count his balloons. The balloons are arranged in a circle, so he continues counting around the circle, and counts some of them twice. Grover has a solution -- he pops each of the balloons as he counts them. (First: Episode 0133)
Community content is available under
CC-BY-SA
unless otherwise noted.