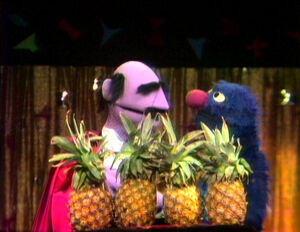 Big Bird organizes a rhyming show. The Prince he presents to his audience fails to find rhyming words and is told to leave the stage.
Ernie & Bert — Ernie has a so-called "magic" chain which can form into any shape he wants. Bert is dismissive of the chain's magic properties. And yet, when Bert asks for the chain to provide a sandwich, it does. (EKA: Episode 0680)
Farley looks for his lost toy box.
Notes