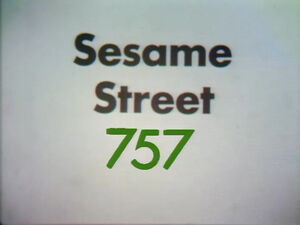 Picture
Segment
Description

SCENE 1
Big Bird shows Grover the contents of his "Big Book of Birds," though most of the simple information is foreign to Grover. He is especially baffled by the image of an egg, as Big Bird tries to explain where they come from and what's inside. Grover doesn't grasp the concept (asking where the door and windows are), so Big Bird shows him a film...

Film
A baby chick hatches from an egg. (Music: Joe Raposo)
(First: Episode 0690)

SCENE 1 cont'd
Grover understands the idea of "hatching" now, but when learns about other animals hatch from eggs as well, he begins fretting over the poor mother hen - she never knows what might come from her eggs! Big Bird sets him straight on the matter.

Cartoon
Poor Solomon Grundy washes a different part of the left side of his body every day, but at the end of the week, "he's still half dirty!"
(First: Episode 0001)

Film
There Once Was a Hand series: the right hand tickles the left hand with a feather.
(First: Episode 0699)

Cartoon
Do you know what it's like to be scared?
(First: Episode 0547)

Muppets
Ernie & Bert — At the movies, Ernie reacts to a sad, funny, scary movie, to Bert's embarrassment and the annoyance of the other viewers.
(First: Episode 0627)

Cartoon
Jazz #5
(First: Episode 0007)

Insert
Five signs are counted forward and backward as they appear on the stoop, followed by five kids holding the signs.
(First: Episode 0417)

Song
Joe Raposo sings "Penguins Five."
(First: Episode 0245)

Insert
Five kids appear on the stoop, rising up one step each time a new kid is added. They are then counted backwards.
(First: Episode 0417)

Animation
Sand B/b
(First: Episode 0627)

Cartoon
B is for bubbles, bubbles and more bubbles. And Bosco, who is taking a bath.
(First: Episode 0355)

Muppets
Farley looks for his lost toy box.
(First: Episode 0279)

SCENE 2
Big Bird wants to tell everyone about the letter B (since it begins his name), but finds Bert is trying to do the same. They argue and shout B words at each other, until Maria tells them they can both talk about it.

Cartoon
With one mighty blow of his baseball bat, a boy knocks several B items (including a basket, bandit, and ball) off of a wall.
Voice: Casey Kasem
(First: Episode 0237)

Film
1-20 Ice Skaters
Music: Joe Raposo
(First: Episode 0451)

Muppets
Ernie & Bert — Ernie can't sleep, so Bert tells him to count sheep. Ernie tries to count sheep, but it's dull -- so he starts counting fire engines. The noise from the imaginary fire engine wakes Bert up. Bert says that Ernie's waking up the whole neighborhood, and tells him to count something quieter. Ernie counts balloons -- but the balloon gets bigger and bigger, finally bursting with a huge explosion that wakes Bert up again.
(First: Episode 0276)

Song
"1-2-3-4-5!"
(First: Episode 0144)

Muppets
Grover the Assistant: The Amazing Mumford's pineapple subtraction act
(First: Episode 0280)

Cartoon
Jack waters a B, which grows into a B-stalk. He climbs it and travels to the Land of B.
(First: Episode 0277)

Cast
Big Bird and David try each other's beds but come to the conclusion that for David the bed is the best, for Big Bird his nest is best.
(First: Episode 0606)

Cartoon
At the beach, the Bee Bee and the Barker family greet each other while saying their names that begin with the letter B.
Artist: Bruce Cayard
(First: Episode 0627)

Film
A lowercase b floats by some boats.
(First: Episode 0471)

Cartoon
A man tries to get to sleep, but is woken up by a fly, a chicken and a drum-playing rabbit, all of whom call him on the phone after he throws them out.
Artists: The Hubleys
(First: Episode 0257)

Film
Joe Raposo: Wet & Dry (Falls in pool; kid VO's)
(First: Episode 0467)

Cartoon
A boy talks about his pet letter Y, named Yetta.
(First: Episode 0443)

Film
Baby turtles swim around.
Music: Joe Raposo
(First: Episode 0294)

Cartoon
A boy can yell and yodel, and his dog can yelp and yowl. They can both yawn.
(First: Episode 0353)




SCENE 3
Gordon, Susan, Maria, and the kids fill out the crowd as Big Bird begins his "Rhyming Show!" The first act is Prince Charming, whose speech uses various synonyms instead of rhyming words.

Film
A film shows parts of a flower.
Music: Vivaldi's Concerto for lute, 2 violins and continuo in D Major II - Largo
(First: Episode 0008)

Muppets
Ernie & Bert — Ernie has a so-called "magic" chain which can form into any shape he wants. Bert is dismissive of the chain's magic properties. And yet, when Bert asks for the chain to provide a sandwich, it does.
(First: Episode 0617)

Cartoon
Two kids argue over whose chair it is, until the dog suggests they share the chair.
(First: Episode 0369)

SCENE 4
Next on the Rhyming Show is Cookie Monster, who intends to talk about cookies at first. He sings a song about rhyming, but can't keep his mind off cookies for very long.

Film
A percussionist on the beach talks about how rhythm is everywhere, such as in breaking waves, walking and horse galloping. (edited)
(First: Episode 0032)

Muppets
Kermit's Lectures: A pair of feet stand on a wall while Kermit the Frog talks about them and what they can do.
(First: Episode 0371)

SCENE 5
Big Bird closes the Rhyming Show by announcing the sponsors in rhyme, but Prince Charming interrupts before he can say "goodbye." Instead, the prince tries saying various other parting phrases, as Maria reiterates the sponsors.




CLOSING SIGNS
Maria and Susan hold up the Sesame Street sign, while Ernie and Bert hold up the CTW sign.
Notes