Sesame Street
Plot
The Count wants to stay awake at night and count stars.
Air date
March 13, 1975
Season
Season 6 (1974-1975)
Sponsors
F, 7

This episode guide has been compiled from materials at the CTW Archives.

ⓘ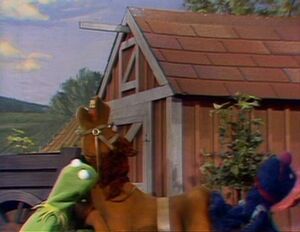 The Count is sleeping outside. He's tried to count the stars but he can't stay awake long enough. He decides to sleep all day so he can stay awake all night and count the stars.
Big Bird is making sure the Count isn't disturbed while he sleeps, but he finds out it's not easy to keep everybody quiet. Trying to scare a fly away, he ends up crashing against everything.
Mr. Snuffleupagus helps Big Bird keep people quiet so the Count can sleep, but his loud sneeze awakens the Count.
Big Bird falls asleep and starts snoring. The Count thinks it's his best chance to stay awake. He starts counting stars.
Cartoon: "The Story of A" -- A witch tells bored kids a story about the letter A involving an ant's apple getting stolen by an archer. (First: Episode 0130)