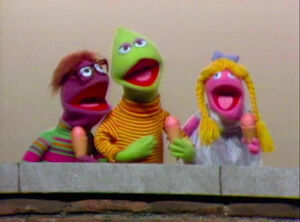 Mr. Hooper refuses to sell juice to Oscar, because he doesn't say "please" when ordering. Oscar convinces Mr. Hooper that he's a Grouch, and he's not supposed to use words like "please" or "sorry".
Big Bird has locked the store, but forgot to turn off the lights. He manages to reenter the store but ends up "locked inside". He's confident that he'll figure everything out.
Big Bird refuses Gordon's help to get him out. Gordon tells him that sometimes letting someone help is a smart thing to do. That's how one learns many things. Big Bird agrees to accept his help.
Ernie & Bert — Ernie wants to have some cookies. Bert asks Ernie if he knows what "before" means, and Ernie demonstrates by saying that before he can have a cookie, he has to open the lid to a cookie jar, and after he closes the lid, he eats the cookie. He demonstrates a few times, until he loses his appetite for dinner. (First: Episode 0007)
Ernie & Bert — Ernie proclaims to be the world's greatest counter, yet he counts very slowly, and starts all over again if Bert interrupts him. This slowly drives Bert insane. (First: Episode 0107)